Hi Lauren, i had recently bought the book men are from mars and women are from Venus, it has brought me to try and discover more wonderful information on your page. My boyfriend of three years had recently just left me about a month an a half ago, we had just moved in together and were only living at our apartment for 2 months before he decided to lay the break up on me. He says he needs to find himself and his happiness, this term is still so confusing for me when things for the past three years were going so well. and just 2 weeks before he broke up with me he had talked about marrying me wanting to spend the rest of his life with me. as soon as he left the apartment and packed his things he doesn't want to see me or doesn't really talk to me and whenever we do talk it always ends up in the both of breaking down crying because its so sad. he has told me that he still loves me deeply and cares about me but doesn't want to be in a relationship right now. I have no idea really what to take from all this, i know that i may have smothered him to much in the relationship but at the time i did not know what i had been doing i do know that i some how contributed to this traumatic event. but he is making it seem like its totally over and he is just cutting things cold turkey. i never seen this break up coming and he said to me that it just happened and he didn't even realize he was going to do it. after three years of being together hes acting as if he doesn't even know me. i just need some advice of insight on what might be happening to him or me right now for this to take place? ...
Probably give it another 2-3 weeks to even a month if you have to, considering that its been some time since the break up but she still doesn't seem ready. You could send the elephant in the room letter after this NC, and if she does not respond positively towards you still, you might seriously want to consider letting go instead, because she may simply not be interested anymore.
Hi me and my boyfriend of 9 months just broke up. It was an out of the blue break up that left me confused and shocked. Everything seemed good to me we had only gotten into one disagreement the whole time we were together. But our relationship was hard. He worked the graveyard shift so we only got to see each other on the weekend. During the week our schedules were opposite. When I worked he slept and vis versa. So we would try to communicate as much as we could right before the other one would go to work. He met my family enjoyed time with. Literally was hanging out with them the weekend before and out of the blue one night he told me we should break up. That he felt like he couldn't be the boyfriend I needed and that he felt we hit a Plateau. That he felt that he should be feeling a certain way by now but wasn't. I.e. his longest relationship was 8 months before me and he's 36. I miss him and want him back I don't understand why this happened out of no where.
Me and my ex boyfriend has been dating for 4 months when I got pregnant with his first child. I instantly didn't want the baby because I was afraid or had fear that he would leave me like my first baby father. He has a hard time expressing himself and communicating so I didn't know until now that I truly broke his heart when I aborted our baby! I want to make things better and get a second chance with being him but he says it broke him! Then he started talking with this other female of course me being jealous and her because he was barely their for me emotionally after the abortion I slapped and hit him a few times out of hurt/emotion of him moving on so fast ! I know to follow the guidelines but I've asked him multiple times what are we doing where are we going with this, and he says I'm being pushy and pressuring him to be back with me. And I do not want him to do that .. I want him to make his decision based off the love he had for me in the beginning but I also don't want to come second to the female he is dealing with. How do I fall back and careless about us getting back together? Or should I just move on completely knowing that I broke his heart after aborting our baby? He said it was worse than someone cheating on him. I'm just so confused
Keep in mind, once you get a chance to get back together with your ex boyfriend, you have already learned how to get your ex back and let go all bitter feelings you suffered in the past. Never lose hope to get the one you love most, even if your ex is in a relationship with someone else, just hand on! But, this doesn't mean you have to disappear from your ex's life completely.
He ended things.. This is a guy who comes back to me and has my number for 5 years. And we were so intimate and shared our past. He said didn't want to play games this time. He came 4 hrs back and forth to spend time with me. Pursues me. Why? What does he want? Why travel in total 8 hrs to come have sex with me? He like a egotistical narcissistic unemotional prick. Please advice.. Btw I never responded to his message. I left things.
This is a tough one to give any opinion on, but if he's chosen to do the responsible thing (which is really commendable), he's accepted whatever emotions and hurt as part of the consequences of his actions (whether it's hatred for his life, unhappiness, etc). Determining whether he eventually comes back to talk to you may be another thing altogether, because it would be dependent on whether he eventually forgives himself for his actions and whether he thinks its even a good idea to contact you again.
before my ex and I started dating we spoke for three years with out meeting one another ,and developed a deep connection , speaking sun rise to sun set , hr long phone calls , after three years we finally met and started dating , we dated for a year . we broke up about 7days ago . We broke up because he said that I was disrespectful and always had a negativity frequency. He blocked me on what'sap . I called him tonight to speak to him about our break up and trying to work on things , he said no and wants to remain broken up because his given me plenty of chances in the past , he loves me but he thinks I'm never going to change . its his birthday in a couple of days , do I send him a birthday text ?? also before putting down th phone I asked him if he could unblock me on whatsap he said no , I can contact him via phone call or text ... I'm more confused them EVER ! what should I do ?
If she seems open, and you want to step up for another at-bat, acknowledge your shortcomings. "If you did something hurtful, make a real apology," Frances says. "It might be wise to see a therapist to clarify what you did and why, and how best to sort of the problem." Then, no matter what she did, you need to take responsibility for you—and change. If you weren't willing to extend an effort to get to know her friends before, tell her you'd be game for drinks as a group. (Yeah, that's right. Swallow your pride.)
Getting dumped sucks and when your boyfriend decides he doesn't want you anymore it just tears you apart from the inside out. I feel for you but don't worry because we are going to take a look at your breakup and figure out the best way to approach things. Again, I want to reiterate this point- don't assume that the reason your ex boyfriend gave you for why he chose to break up is really why he decided to let you go. This may sound a bit mean, but you are going to have to be completely honest with yourself and possibly look at things that may make you uncomfortable.
I accept that the break-up was the best decision as it served as the revelation I needed to get therapy. I have finally been diagnosed and am receiving help for my mental illness. I love him, genuinely, and I want to start a new, healthy relationship with him but he was so angry and hurt when I last spoke to him, and I'm afraid that he won't respond to me if I reach out after 'no contact' or allow me to show him my progress... It kills me that I've hurt him so badly, he means so much to me and has done so much to help me.
How To Get Your Ex Jealous And Want You Back
I dated someone for 2 1/2 years and it suddenly ended last week. He said I'm his best friend and he loves me deeply but there was a disconnect and he isn't sure why. Said some things from the past concern him and it was time to move forward or let go. He said wasn't sure if his feelings would come back and it wasn't fair to him or me. He said he doesn't have a negative word to describe me and he doesn't understand it. Said if somethings meant to be it will be. He's now going to therapy to work through his communication issues and commitment fears. As am I for my self worth.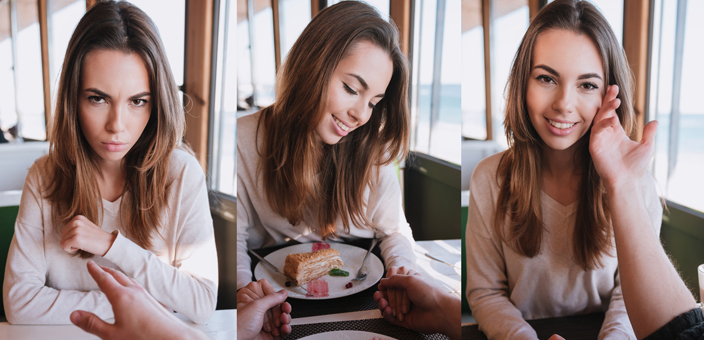 Pues mi historia es un poco larga, no pretendo q nadie la lea, pero resulta que desde que inicié una relación sigo buscando a mi ex y ocasionalmente lo veo; todo ese tiempo sentía feo por hacerle algo así a mi pareja, pero las cosas con mi ex no se terminaban de cerrar y siempre pensaba que estaría mejor si regresara con el. Así q hoy, buscando algún pretexto para que fundamentará el cortar la relación, que por cierto duro 1 año, descubro que no soy la única que ha estado mintiéndole al otro, y el salía con otra chava!!!!! Jajajajajaja era justo lo que quería y aún así siento feo xq pensé que si le gustaba, aunq imagino que yo solita lo aleje? O solo el es un pendejo? Es q estoy intentando justificar que me pusiera los cuernos cuando yo tambn se los ponía?? Jajajaja q irónico !!!! De vdd!!
To think you can "make" someone want to be with you is illusory and will only lead to suffering and disappointment. The most important tip here is to be fully in the moment and truly OK with whatever the outcome is.  Let me reiterate that. Being OK no matter the outcome is the single most beneficial advice I can offer. Fixating on your ex, secretly wishing that he comes back to you, or worrying that you won't be able to win him over will not be beneficial to you in the long run.
How To Get Ex Boyfriend Back Fast
Remember this step– and really this whole process– is about you. Yes, it is also highly likely that this step will make him miss you, but again, that's not the focus. Your focus should be on getting to the best possible headspace and having the best possible mindset so you are your best possible self. That is the foundation for lasting love, not tricks and gimmicks.
It would depend on the circumstances of why she decided to break up now of all times, whether its because she gradually felt less towards you, or if there was someone else. Typically, a long distance relationship would be harder to win back because the main cause of most breakups here is the lack of physical proximity, which can't be changed unless one party goes over. If her trip at the year end is a long or permanent one, there would probably still be a chance for you to win her back if you're able to reach out successfully, but if it's just for a holiday, you might want to consider walking away because the same result may eventually occur where she loses feelings again down the road.

Get Your Ex Back Voodoo
I really need some advice, my ex and I have known each other since childhood. One day last year he started flirting online with me and then we started texting and really hit it off. He lived out of state and I wasn't ready for long distance, but he still kept trying for me. So after months of flirting and falling more and more I decided we can give long distance a try since he comes back to our home town often and I can go visit him. After a few months of that things were good and he actually as able to move back home and we were so perfect for each other. Saw each other all the time and fell more in love, spent time with both our families all the time and every one was happy. Then my life got stressful with work and studying for Med school applications. And he got a new job that was very demanding and took a lot of his time. I noticed things became distant when he didnt have time to see me or even just relax with me, he always had work first and his family is also very demanding and took a lot of his time as well. I was planning on talking to him about the issues but he's not one to be up front and talk things out, he rather tell me "its okay " so i thought there were no issues, when in reality i pushed him to far and kept asking to see him or plan things or complain when he didnt even have energy to talk after work. We had date night once a week and i would see him maybe once or twice on weekends and that was okay with me, but i still made him feel bad about it. One day he had so much work he asked for me to leave him alone for a weekend and that upset me and i ended up calling him one to many times, and he exploded and told me he can't do this any more that he needed his space and to break up, he said he wanted to figure himself out and get his life in order and that he felt bad that he didnt have the time a girl friend like me deserves and that he didnt want to hurt me anymore. I was devastated, this messed up my studying and my life for weeks. We didnt communicate for a week then i ran into him at an event, we talked some but knew it wasn't the right time or location for a chat like this. Then we talked a few days later but everyone was still heated, he said he didnt have the answers i needed and he doesn't know what the future holds and that he's sorry he had to do this to me and hopes we can be friends later that we just need space now. Yet he says he cares about me and still has feelings for me. Im so confused, and probably asked to soon if he can see himself with me again, since he did the same exact thing to his last girlfriend for the same reasons and took her back. He tells me he doesn't know what our future will be more then friends or not and doesn't want to give me false hope…. If he worked on his own issues and i worked on mine could we get back together in a few months? he keeps saying i did nothing wrong and its all him and his own issues, but i know i was needy and acted ways I'm not proud of. I was just so scared to lose him i ended up pushing him away. I just want to know how to get him back or make him realize if we just talk about our issues instead of running from them maybe things would be smoother when were both on the same page. I really love him and deep down know he still cares for me and loves me. Im just so scared to say the wrong things now and push him away even more. He is having a major surgery soon and i care so much, but don't want to make him think I'm needy. Could he really have his own personal issues? or did he just use that excuse to let me down easy? He tells me there is no one else but i don't want him to move on without me during this space period if we don't talk about things. Please help I'm a lost soul, this is my first heart break and after over a year of talking and almost 9 months dating i just can't see why he would leave me so suddenly with out answering any questions. Is there any way to get him back? I try to contatct him as little as i can so he has space but its hard and we are still friends on social media even though he deleted all signs of our relationship together. i just worry so much that i lost my best friend and will never have him back in my life as even a friends. When we do talk i ramble and talk in circles and i know thats pushing him away more so I'm trying to stop. I just over think everything and always questioned everything and i guess it showed I'm insecure when i really have bad anxiety over a lot of things. he was always so supportive and calming and then he just left me over one fight, our first fight….I just want to talk about all i have thought about since he left me and how i hope to fix things so we can grow together. what should i do!? sorry for the long post I'm just a very confused heart broken girl who lost the love of my life, at 25! thanks for the help
Ex Getting Back Together Songs
Be calm and confident in yourself and what you think you can contribute to her life. In the time you've taken to improve yourself, hopefully you will have evidence of that change. If the cause of your breakup was that you did not have enough time for her, show that you've altered your work schedule and made time to volunteer or pick up that sailing hobby you've always dreamed about. That will show you're willing to make time for things that matter to you. See where I'm going with this?
It becomes our process and not just your own. We are available every single day, 365 days a year because we recognize that your love for your ex has no boundaries or days off! So if you are serious about doing everything possible to get back with your ex, don't wait any longer and reach out to me or to a relationship expert from the love coach team here at WithMyExAgain.com.
"Typically, when a relationship ends, there may be pain, sadness, or negative feelings on one side or both," says Dr. Amie Harwick, MFT, a licensed marriage and family therapist in West Hollywood. "When considering getting back with an ex, one must consider if they can work through the differences." And while we can't directly tell you which are good reasons to get back together with an ex, it's a smart idea to consider why you got together with this person in the first place. Are those the reasons you want them back? Do they outweigh the reasons why you broke up? Then there may be reasons to proceed.
Get My Ex Back Reddit