I want everyone to know what tremendous help Coach Lee has been to me! I had been dumped and had not heard from my ex for many days. It was tremendously painful since in my past experience I had never seen the relationship be revived after being dumped. You can read about strategies which are helpful but if you are serious about getting your ex back, contact Coach Lee. Once I hired him on the case, five days later my ex called. A miracle! He helped teach me what to say and when to say it. He calmed me when I wanted to reach out to my ex but it wasn't the right time. Even when my ex went many days without calling me his vast experience gave me the confidence to be patient. You go through so many ups and downs. He knows what you are going through and calms your fears! He gives you a game plan and helps you execute it through the highs and lows. After five days of hearing from my ex, she ghosted me for 11 days. I freaked thinking now it is all over! Coach Lee helped me be strong during that time! Then my ex called back! A second miracle! We went for coffee! A third miracle! He coached me for the coffee date! We ended up getting back together and I now have a regular call with Coach Lee. He teaches you so many things that help you move the relationship forward. You don't give them what they want you give them what they need! Coach Lee will be my coach for life for the most important thing in life you have, which is your loving relationship with your significant other!   -Dr. M.
So, my ex boyfriend had a friend who killed himself just about 3 weeks ago. It hit my boyfriend really hard and he started to change. He got quieter and quieter and soon wasn't even the person I had been dating for a year. I finally asked him if he even wanted to be with me, and he replied "Its not that I don't want to be with you, I just feel empty". He ended the relationship saying he needs to figure out how to fix himself and fill the hole he has inside him, but he wants to do that alone. I really do not know what to do at this point. He messaged me twice. Once was asking how I was doing, and the other was him telling me I was welcome to see the cats if i ever wanted to (we owned cats together) so I guess I want to know if this advise you have given in this article is going to work. Because I honestly think he is really confused and doesn't know what he feels. I would appreciate any advise!
2. If your answer to both questions was yes, go ahead and reach out. Start off super-casual to take the temperature of things. Say something like, "It was so nice to see your name on Facebook! How are you?" His response will reveal a lot. If his reply is short and curt ("Hey there, hope all's well.") that's not a good sign. If he's effusive (think exclamation points or a smiley face) and asks you questions about yourself, that's a green light to take things a step further.
Me and my girl were together for a 1 month but not officially. We both say "I love you", we cuddled, hug, kiss, go out together, everything does like it is relationship kind a thing. At first all things were fine but there are some imperfections and flaws of mine, like not giving her enough attention, not communicating about our needs and wants, and acting like a jerk sometimes that she accepts it at first because she loves me. But things get out of control, I repeatedly started those things she doesn't want me to do again. I screwed things up over and over again, she gets really angry and said i was too immature of my age, btw i'm 19 yo and she is 18. At the end of the month she started to act cold and i am comforting why did she acted like that she told me that she didn't like my behaviour and got turned off by how i act, she even felt sorry for getint tired of us because of my behaviour. Then she reason out why it came at end then i went nuts, begging, pleasing, that i am gonna fix it right away and begging her to stay. I got no reply. Should i pursue her? Or move on and improve myself?
Make a game plan for addressing the problem. Once you figure out what went wrong in the relationship - which could be a combination of problems instead of just one - it's time to think about how you can make things different next time. You don't want to make your ex-boyfriend want you back if you'll just run into the same problems and drama all over again.
This was not the type of relationship I had hoped she started with her ex. And I truly believe it's because Margarete skipped this step. She did no contact. But she never grieved and regained her individuality. In my opinion, she should have extended no contact until she regained her self-confidence. But the idea of getting back together was too tempting for her to listen.
The first time you meet will bring both of you closer. It is best to meet over coffee or something both of you enjoy. There is no point in talking to him about your relationship at all. Talk about neutral things like his work or things he is going through in his life. Be happy and don't act desperate or depressed. No one wants a needy person. Talking about the relationship might not be the right thing to do since both of you might not be on the same emotional footing.
Hello I could really use some advice. I did 2 months of no contact after my ex and after that I apologized for the way I acted before. That was about a month ago and we have pretty much been talking for hours almost every day. Now however, she has been going hot and cold on me and I have no idea why. We have been seeing each other a lot lately and she always seems really happy to see me, but lately she hasn't been responding to my texts (I have only tried twice but now I just want to avoid seeming desperate)I don't know what to do now. Sometimes she seems happy around me but others I can tell she is blatantly ignoring me and I'm all confused. What can I do? Thanks in advance.
It is sad to see there are 60% relationships in America that ends up in divorce. Therefore, my main objective of creating this website is to help all women in understanding the inner working of male psychology. The cutting-edge techniques you discover in this website will not only help you in getting your ex boyfriend back but also help you in making your relationship stronger than ever before.
Hi! My boyfriend of just under 1 year broke up with me a few days ago. We were the perfect couple, incredibly similar and always had an amazing time together. However there was one issue that popped up time and time again. He wanted to go out clubbing with his friends, but never wanted me to go with him. I felt incredibly neglected and became insecure because I felt like he didn't want to be around me. This would in turn bring about arguments. We broke up in a friendly way, he told me that this decision was breaking his heart but that he didn't see anything changing because the issue kept coming up. He told me I am the best girlfriend he's ever had, and would definitely miss me, but that his decision was made because due to the fighting, he believed he had lost his feelings for me. Further, he believed our similarity was a bad thing, even though we never had any issues or arguments about anything we ever agreed on. Since we broke up we have been in no contact, apart from the day after we broke up where I phoned him crying and sent him a couple of texts trying to convince him that he'd made a mistake. He is incredibly stubborn and I have this feeling that even if he realised he made a mistake, his stubbornness would stop him from reaching out to me. I want him back, and have realised how my insecurities pushed him away. I'm in the process of following all your steps so that I have the best chance of getting him back, because other than this one issue, we are perfect together. My question now, is after so much reflecting I've realised how I contributed to the break up and learnt how I can fix this if we tried again. So I was considering an "elephant in the room" text to let him know how much I've realised and learnt, but I'm worried about appearing desperate which is not my aim. Should I send him a text outlining what I've discovered, but end it in a way where it shows I'm not expecting a response or a second chance? or should I continue my no contact period?
I am 26 years old. My situation is a little different. My "ex" and I were not officially dating- a label was never placed. However, we were seeing each other quite regularly and acted as if we were together for almost 2 months or so. Too sum everything up, her and I met through a mutual friend that matched us up. We knew nothing about each other but hit it off ever since the first date. We continued to talk, and gradually become very comfortable with each other. We began to see each other 2, sometimes 3 times per week. In the early going, we made it clear that we were going to take things slow and make sure that we don't rush into anything serious. But truthfully, we admitted to each other that we were caught off guard at how well we got along and really enjoyed each others presence. Things began to ramp up- sex, sleeping at each others places, letting our guards down and showing true feelings. She eventually wanted to make it clear that we were both exclusive to one another and not seeing anyone else, yet never did we place a label on anything as we wanted to keep the pace at where we had it. She would tell me that she's never felt so happy with someone before. Hearing things like that made me quite vulnerable. Well... at the snap of a finger, she began to distance herself via text. Then in our last date, things felt strange and a wall seemed to be up again, When we got back to her place, she sat on the other couch, keeping her distance. So I proceeded to ask where her head was at, and what she was feeling. She explained that she has started to feel nervous and scared of losing her freedom and the thought of commitment... I understand we weren't officially dating, but this girl opened up my eyes to the idea of a real relationship and I want nothing more than to continue what we had going on. If I apply your process, do you think it could work in my situation to get her back in my life?

This applies to your past relationship during arguments or conflicts that you may have gotten into, to the actual breakup, but also moving forward while trying to win back their heart. In order to really understand what your ex felt or feels and to come up with the right approach to connect and touch their heart you will need consider the 360 degree approach
I Don't Know If I Want To Get Back With My Ex
It is sad to see there are 60% relationships in America that ends up in divorce. Therefore, my main objective of creating this website is to help all women in understanding the inner working of male psychology. The cutting-edge techniques you discover in this website will not only help you in getting your ex boyfriend back but also help you in making your relationship stronger than ever before.
Send her a letter. Girls also love letters, because they take a lot of time and you have to express your feelings. Start off by saying something like: "I know this letter doesn't fix what's broken between us, and maybe it never will. But I want you to know that I care deeply about you, and I always will. That part has never changed. The part that's changed is that I realize how stupid I was to let you go."
Since I'm not familiar with your situation I don't know what the chances of getting your ex back are.. That said, this is my advice. As cliché as it is, I still believe in, "If you love something let it go. If it comes back to you it's yours. If it doesn't it never really was." Move forward by staying busy & trying new things. Spend time with family, go out with your friends, join a club, start a hobby, volunteer in your area, etc... There is nothing more appealing than seeing that your ex is not pining away but rather living life!!! I would not initiate contact, but if your paths cross be cordial - not gushy sweet & not too cool - just cordial. And know this - if you don't get back with the ex, it simply means this was not "the one." Good luck.
You'll have to understand that being good friends have nothing to do with the relationship once you get involved with each other and promises to remain good friends should the relationship fail simply holds no value anymore. As for the reason why he broke up with you, it often is due to taking the other party for granted, and growing intolerant to that person over time. This results in one party feeling tired of being in the relationship and simply pushing blame and thinking whatever the other person does is wrong.
My boyfriend and I broke up March 26th. We got in a huge fight and I said some mean things. I pretty much begged my way back to him. That lasted a month. During that month, he was very distant and wouldn't really make plans with me. Mind you, before we started dating we were best friends for a year. He broke up with me one week ago. We didn't talk for 3 days until we ran into each other at a concert. He was a little drunk, so i took care of him. He texted me the next morning and we talked for a bit, the next day i asked him if he wanted to see the new Deadpool movie. His response was "maybe" he then said maybe some space would do us good. And we haven't talked since. He told me when he saw me that he "didn't love me like that" anymore. Do you think i have a chance? Should i spend time working on me, and then contact him and try to get our friendship back and then hope we get back together? Or should i just move on? I really love him and want to be with him, he is still my bestfriend after all.
How To Know If You Should Get Back Together With An Ex
He's giving me good feedback but its delayed. So I sent out my initial first text, and he responded well….. The next day. So to prevent looking desperate I waited a full day to respond. My second rapport building text he kinda ignored. So I gave it three days and tried again. I got good feedback but he ended the conversation. So I waited four more days and tried another rapport text in which I wished to redeem myself. To which I got no response. I haven't texted him again but like. I don't know what to do.
The fact is, if your ex starts dating someone else soon after a breakup, then it's definitely a rebound relationship. And rebound relationships never last. In fact, it just means that after you broke up, your ex had a huge hole in their life that they are trying to fill with someone new. In many cases, they rush into it too soon and things get too serious really fast. There is nothing to worry about as the faster it moves, the faster it will end.
This is the power of jealousy. Now, I am NOT recommending that you go out and date someone new. I am recommending that you drop certain hints in your communication with your ex boyfriend that you are out meeting new people. The key to this is that YOU CAN'T BE OBVIOUS. Do you think you will get very far if you rub the fact that you are out and about with other guys? The answer is no. There is a subtle art to incorporating jealousy texts into your conversations and I am going to teach you that art.
You need to get his attention again. One way of doing that is to change your appearance. Get new outfits, change your hairstyle, change your style in various ways. A lot of times, people get used to one's appearance, so they no longer notice the beauty of the person again. If your ex-boyfriend lives in the same area or works in the same place with you, you can get him to easily notice you. If not, you can upload hot images of you on social networks like Facebook and Instagram. This way, he will notice you.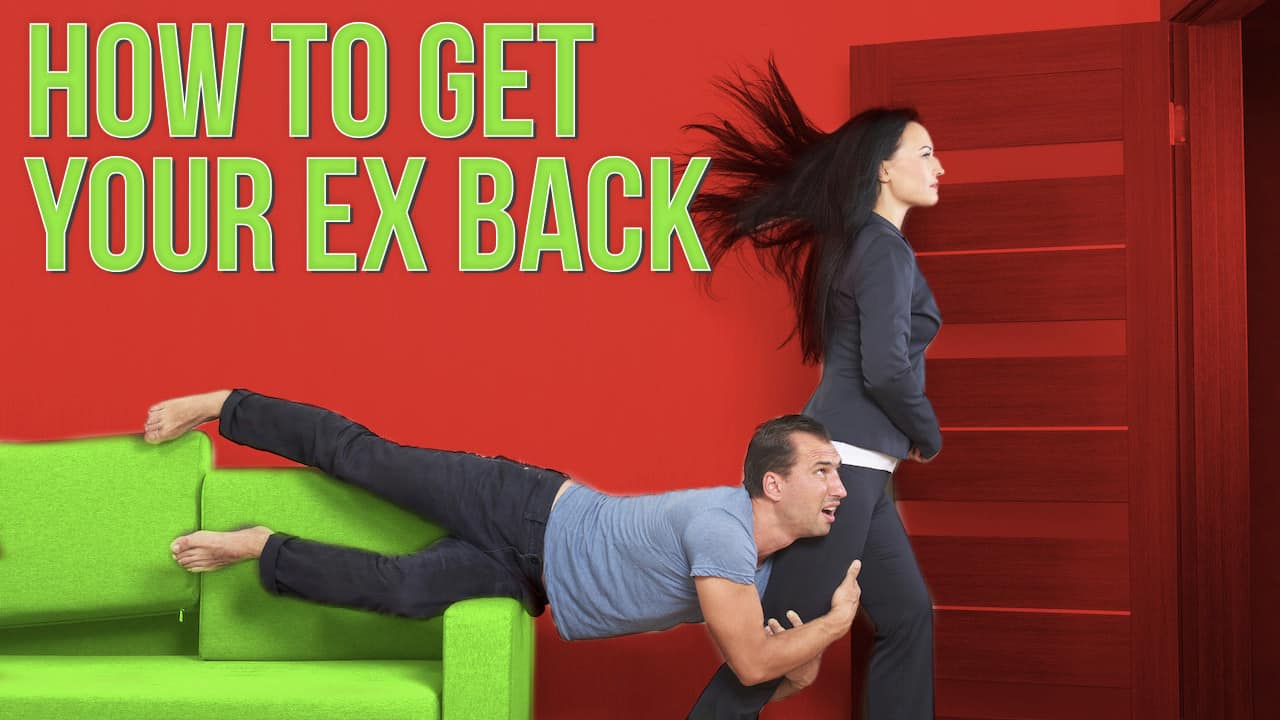 Regardless, if it's his child you're carrying, there should be a level of responsibility he needs to uphold. Also, it's not his first time going through pregnancy and he should be aware that what you're going through in terms of your emotions is perfectly normal. That being said, on your own end, the child should come first at this point and anything that would further cause you emotional grief and sadness should be put aside for the time being, at least until you feel a little more control over your emotions.
Your ability to surprise your ex can make or break your chances of ultimately getting back together. In fact the element of surprise is so important in this process that when I'm asked how to get an ex back during one on one coaching sessions I sometimes simply answer surprise your ex! I obviously later go on to explain at great length why surprising an ex is important and how you should go about it!
In 2001, after her employment at Webtrends ended, Vinneccy filed for the restraining order against her in Florida, claiming that Swetnick threatened him and his family after he ended their relationship. "She was threatening my family, threatening my wife and threatening to do harm to my baby at that time," Vinneccy told Politico last week. "I know a lot about her. She's not credible at all," he said. "Not at all."
1. It stops the damage. If you respond with calm and poise when your ex breaks up with you, you let the relationship stand on its own instead of giving the response to the break up a featured status. And your odds of an ex coming back to you with the relationship itself being what is judged is much higher than the final experience with you being your fit.
Honestly, it is hard to think of any disadvantages when using text messages. Texting is the communication highway for today's couples. You and your boyfriend probably texted each other all the time and rarely shared them with anyone. Basically texting is super intimate. You can share cute pictures and do all sorts of really fun things. Not to mention it is impossible to raise your voice over a text message. However, I would say the biggest advantage to text messaging would be the fact that you can take your time and think everything through. This is something that calling on the phone won't allow you.
What Should I Get My Ex Boyfriend For His Birthday
It doesn't really matter how it happens. Maybe he'll reach out to you. Maybe you will initiate contact with him. Whichever it is, the key thing at this stage is to keep things casual. And this should be easy for you. You've already detoxed from the drama of the relationship, you're working out, hanging out with friends, have probably been on a date or two, and are involved in new hobbies. Essentially,  your life doesn't revolve around him or a relationship anymore. You've done the mental and emotional work to be fine with the outcome either way and there is no pressure.
"I can see now," Peter explained to her, "that in my depression about work I became totally self-centered. I withdrew from you, so no wonder you felt angry and distanced from me. As both of us withdrew from each other we lost our sexual connection.  I felt desparate for attention.  Then I took the ultimate wrong turn by seeking sexual attention from an infidelity. Big mistake!  I'm so glad that now I'm looking for a job that will be a better fit for me. I think I've found one, and I'm thrilled at the prospect."  
Get Ex Back Psychological Tricks
I so wanna do this nc thing but when i do say 2 days, he will text me little questions like "do you remember where i put my …" And i have never never ignored him at all. Yes he has signs of a narcissist. And he comes from a broken family. We worked at the same place and thats hard for me. You know people would talk and all. I have been laughed at for being the provider. From money to time to chauffeuring him. And that hurts because i did all that in the name of love. But he didn't appreciate me. In fact he treats me like kids treating a mom. No calls the whole day, busy with everyone. Only finds me when he needs something. He cheats on me too.
Me and my ex were best friends for 3 years secretly in love. We never confessed. She started dating someone 8 months ago and i couldnt take it so i told her. She confessed that she had been in love with me too. We were together for 6 months until she told me she had lost feelings for me. And that it was because i had changed and talked about other girls more and cared less about her( told this to her friends) she now says she likes someone shes talking to. And that shed never wanna be with me again.
Regardless of how a relationship ends, all breakups result in the same thing: Every guy on the planet -- seriously, every f*cking guy -- will wait until their exes have moved on from their relationships to want their exes back. This fact is so universally predictable that women anticipate and LIVE for the day when they have moved on and feel unaffected by their ex-boyfriends' efforts to win back their love. We basically fantasize about it.
I like this article. It was very insightful, and really aimed to help the obsessive psyche of women fixated on what they can't have, relationships that they want to mend, trying to get married…etc. While I agree that being happy and getting over the guy truly can attract him back, the truth is most of the time it doesn't. And well, this tactic is rather hypocritical 'cuz if a women has truly moved on, what will make her want the guy back if he comes back? It's a tricky maneuver to do. It's basically saying get over him, no strings attached, but ya, look over your shoulder in case he does. It's not a true method of getting him back, in my opinion. But sometimes this method is the best outcome for both parties.
Hi, my on and off boyfriend of 5 years broke up with me. I'm a single mom. He was always there for my kid since she was born.but I cheated on him with the kids father. I made a stupid mistake he lost trust and broke up with me over suspecting I had cheated again I haven't. Idk what to do. I know he has another girl he's talking to. And his mom says he comes home late like 3am. I love him. We were talking marriage or moving in together before he dumped me.
Ah so you had a sneaking suspicion but were proven wrong. This is bad for you for a couple of reasons. First off, your boyfriend surely will feel worried about incurring your wrath whenever they want to do something. Secondly, it makes your ex feel like you never trusted them. Luckily, you can work on this and prove to him that you are no longer the person who suspects him every time he goes out (without you.)
Make a game plan for addressing the problem. Once you figure out what went wrong in the relationship - which could be a combination of problems instead of just one - it's time to think about how you can make things different next time. You don't want to make your ex-boyfriend want you back if you'll just run into the same problems and drama all over again.
Sometimes the break up is so unique or troubling or complex, that it requires some specialized coaching.  Or sometimes, people do better if they can talk to someone who is an expert at helping folks with their relationship troubles.  Well, if you fall into that category, then you are in luck.  All you need to do is reach out to me (i.e. click Coaching Services in my website's Menu Section) and I am sure we can work out something!
"Hi! I've been a fan of your work for over five years now. When I broke up with my ex, I was devastated. Then I read a lot of your stuff about getting your ex back. It changed my thinking and my thinking changed my life. I worked on myself. I started doing makeup, became a makeup artist, launched my makeup line, and have started to get recognition. I feel so good about myself now and I have no regrets. Now my ex wants me back but I realized I don't want to go back because I'm moving forward. Thanks for everything you've shared and written."
I hope this helped you understand exactly what to do in order to get your ex back. There's one more thing to remember – even when you do get him back it's very difficult to keep him… unless you know how to make him want to be with you and only you forever. You need this secret formula to get your ex back in your arms for good. It will reveal how to get him to see you as "the one" and desperately crave you by his side forever. If you don't read this now you might miss your chance to get him back forever so don't wait: Do You Want Your Ex Back? Use This To Get Them Back…
Omg I've been doing everything the wrong way. I moved out of m bf's after we got in big argument cause I got home from work late. When I was actually at my therapist office asking for advice how to communicate better with my ex. Long story short, he got mad cause I deleted text messages that day. Ever since moving out he has "trust issue" so it's been up and down. This is the longest we've gone without communicating or hanging out. I feel like he feels he has me so secure. I also have the messages he got so mad that i deleted i tried to show them to him but he won't see them, I think he knows he over reacted and doesn't want to see he was wrong. Sometimes i feel like just sending him the messages.. should i?
There is a notion out there that relationships are hard and filled with struggle. And while I concede that there will be times when disagreements will arise or less than pleasurable situations may happen that need to be dealt with, that's not the kind of struggle I'm talking about. I'm talking about the notion that there needs to be a tug of war between two people… that you need to try with all your might and then maybe the guy will see the light and come over to your side. Regardless of whether or not you really like a guy, or if he really wants you back,  your interactions are what they are. There's no fantasy to bring to reality, no wishes and wants to come to fruition… it already is as it is.
I was devastated for a few days and cried and begged and pleaded but afterwards I realised it was a stupid idea. Then I started accepting the break but still had thoughts like 'maybe his depression affected his decision' or 'maybe when we meet, he'll rethink it.' He was academically smart but not emotionally smart and I was the other way. It took him a long time to figure out that he liked me too when we were best friends. I also realised it's a stupid idea to think that way because he made his intentions clear for now. I apologised for my actions after the breakup and told him that I'll try my best to be his best friend but...
Using Law Of Attraction To Get Ex Boyfriend Back
My situation with my ex fits this profile perfectly. He left me over four years ago because of some really emotionally tough stuff that he was facing. He's made A LOT of progress since then, but he's moving at an excruciatingly slow pace. I understand; I really do. But, it's hard. And no amount of me being happy and attractive is going to speed up his progress. In the meantime, because he IS making progress, I can't stop hoping that he'll call me and I can't bring myself to date anyone else. And as long as I'm still hoping that he'll call, my pain never ends.
What if he changed his number but you've totally stayed away and haven't emailed him since June but are good friends with his sister who really likes you and is currently barely speaking to him due to mistakes he made with her ..(which by the way he hates that I'm friends with her and wanted me to cut her off )- Something I refuse to cut her off bc she's genuinely my friend and I care about her and she's been good to me in the mix of this nightmare )
Great article but didn't work for me. I read an ebook and finally understood what I've been missing all this time. It's all about triggering biological instincts men have that we women don't understand because we are just so different. I realized that is why I lost him in the first place! Luckily, there are simple phrases you can use to trigger those instincts, get him back, and keep him hooked forever. Not only got my man back but he treats me like a princess! No more bs. He absolutely adores me and it's damn effortless on my part. Every time he starts slacking in the relationship, I start talking this way and it stops instantly. Good luck ladies! You deserve a man who will do anything for you :)
I am basically a happy person, and i agree that being happy is magnetic enough to attract people, not just men, effortlessly. I find that freedom to be who you are, accepting yourself as you are, loving and enjoying every moment of your life as you are, and feel that you belong to the universe as a whole, makes things easier to think that possibilities are going to be in your favor and you open yourself up to more beautiful things in life, positive things naturally come your way….hope these ideas help. ;)
Even though you might want a new beginning, you should still tap back into those old loving feelings. An easy way to recreate happy times is to meet up in a safe, familiar environment—like an outing with your mutual friend group. Just make sure you can easily break off from the pack to talk. Alisha, from San Antonio, TX, had an ex take that approach—and it worked. "We were telling stories, joking and laughing together. It was comfortable, fun. Then my ex pulled me aside and asked me if we could give things another try. We talked a lot about our futures, and I felt things could really work."
Showering your ex with affection has the same effect of the first three deadly sins. Trying to convince your ex that he should be with you by giving him all the attention, pouring compliments over him, sending him love notes or whatever will not work. The only way your ex will be convinced of your value is if you make yourself valuable, not if you demean yourself and act out of needy desperation.
I meant a friend who directed me to Dr. Ikhine on the internet who help people to solve their problem and then i wrote to him and he said i should not worry about anything, that i should give him 48 hours for him to cast a spell for me and after that 48 hours my ex boyfriend called me on my office line and started begging. That is how my ex boy friend came back to me contact [email protected] com or WhatsApp +2347039543760 his help is guaranteed.
honestly I did not show appreciation to my ex while we together. I missed valentines day and his birthday. when I decided to make the best of times with him it was to late. then I asked him for closure and he came talked in person. I told what if I got therapy because there is something going on that effects my relationships. he told its been three weeks and I'm over you….. I cried of course then looked at him and said I feel better. just got sick of being sad, doesn't mean I'm over him. but its step. then I told me what was really going on and told he's proud of me said I'm strong person and good girl. he told me to feel free to talk to him and said he wont be jerk to me. he also wants to improve. it sucks that I was to occupied with other stuff in life that i didn't learn to understand him but oh well. that doesn't mean has feelings for me. sadly I cant live in world that revolves around him I must create my own world and keeping living up to my goals. this relationship may have been painful but helped realize what I need. we are blind from pain because only look at the bad qualities that it brings us but we all need realize its actually beautiful because it shapes us. I'm going to embrace it this break up..
When you are going through a breakup, you must take very good care of yourself. At this point, you might be emotionally imbalanced. It would be wrong to contact him this time. Take some time off. Evaluate your breakup. Stay happy and don't get depressed. This will give both you and your ex-boyfriend some time to calm down. He might even be the one to contact you first.
Hello, my boyfriend and I have been dating for the last 3 years. He did break up with me before about 2 years ago bc he wanted to grow and get his life together due to money issues. We are both almost 26 and in real estate. I did no contact for 2 weeks and I texted him and he texted me paragraphs about how much he missed me and long story short we got back together. We lasted a total of 2 more years. About 4 days ago he broke up with me again. He was the one that wanted to see me everyday and he was always taking care of me and I did the same for him. Without even me pushing he wanted to see me about twice a day before and after work and always wanted to spend lots of time with me. Even the same day of the break up he talked about moving out together and he always talked about the future and getting me a ring the last few weeks even months. He flipped on me all of a sudden 4 days ago and told me over text he doesn't want the relationship bc he has to focus on himself and get a place and get his life together. Shocked I kept asking him questions begging him not to leave but he kept saying he has to do this and it was hurting him too. I went to his sisters wedding a few days ago and met his whole family. They all loved me and his dad told everyone I was his daughter in law and his sister said I was his sister in law. He told me the wedding made him realize how quick everything was moving and he needed to grow himself. How can he flip on me and act cold so suddenly. It broke my heart. Our relationship was very strong and we were always there for each other like a married couple. We even had a trip coming up next month. He just acted so cold so suddenly and didn't answer my texts after that. I tried to ask him will there be an us again or future together and he just said he didn't want thi anymore and that he has to focus on himself. I did no contact for 4 days now and it's tearing me apart. I want to marry this man one day and I miss him so much. We planned our future together :(
Hi. I'm in no contact and eventhough I told her I needed space and wouldn't text anymore, my ex has been messaging me a few times. I'm starting to worry that if I keep ignoring that she'll be mad at me. And that when no contact is over and I contact her she might take revenge and ignore me as I did to her. What do I do? Do i restate that I still need some time for myself? Or do I just keep ignoring?

Eric I need help… The love of my life and I broke up like a week ago…. After agreeing to get our relationship right this time. And I believe it happened because we still had such tension that we never took care of… And I suggested that we start over… Like get back together and start over and that that would be the healthiest idea…. And he is so convinced that it'll never work out cause we will always end up fighting and I'm convinced that that's not the case. I believe this is worth fighting for. We have been through so much in over the year we were together. And instead of giving him space I kept pushing and I guess in order for me to finally give him space, after I asked him to just be friends for now until we decided to try again… He said he didn't want to be in my life. My mom said that he only said that so I would finally give him space. She said I haven't lost him and that he knows I'm always here (cause he said that was the reason we got back together before). I just don't know what to do. I've been praying for a miracle to get him back.. But everyone keeps saying just give him space. I'm scared and all I want to do is talk to and see him. Help.
My boyfriend of 2 years broke up with me 2 weeks ago. When we started dating we were both so happy. But last summer my father got diagnosed with cancer and I had a hard time dealing. He died this spring. I was more angry than sad for his loss, cut ties with my friends, got insecure. My boyfriend was very supportive. But I relied only on him to make me happy, complained that he did not show enough affection (even though he did more than enough, I was just afraid of losing him). Which ended in us having a big fight 3 months ago. We made up the next day, promising to work it out. So I started to get back in touch with friends, improve my mental health, plan dates for us. Then he went on a long-planned 3-week trip. We didn't text much during the trip and when he came back that didn't change. He didn't even want to meet until days after he came back. He brought me presents from his trip - then broke up with me. He said he had thought a lot and he felt like I needed more affection than he could give. He seemed genuinely sad and torn. I texted him days later, saying I was ashamed of my behaviour in the past, that I had already changed so much while he was gone. He answered that he had been happy with me too, but could not share his feelings with me and did not see a future for us anymore. But he would like to be friends, as we enjoyed each others company. So again I texted, that I was sorry his decision seemed best for him. That I knew I was egoistical im the past but had done everything I could to make him feel safe with me. He did not answer and I did not text again.
"How long am I expected to live like this? The days are VERY lonely. It's an unbelievably depressing feeling to wake up and immediately realize that I'm not home, and have no friends or family to talk with … I get up, I meditate, I swim, I go to work, I eat, I lift some weights, I meditate again and go to sleep. Wash, rinse, and repeat. I'm not enjoying work (which would normally be a decent distraction), but feel I can't quit, as I have too many financial responsibilities I have to uphold. I'm amazed I haven't gone mad yet.
My ex and I of 4 years had only ever dated each other, neither of us ever dated anyone before we met eachother. I was always satisfied with this and I love her very much, I never saw the need to try new people because I was very happy with her. But 3 years into our relationship she told me she was scared of never experiencing anyone else, and at 4 years, she found herself attracted to one of her guy friends. She decided it would be best for us to break up so she and I could try new people, I believe this decision was also influenced by this friend of hers who is now her new boyfriend. Should I try to get her back or just let things play out as they will (the whole "if it's meant to be than it's meant to be" mentality)? Maybe this is best for the two of us, but at the same I love her a lot and planned on staying with her forever. I don't know if I should try to get her back, or just go out and experience new people and let the cards fall where they will with her and I.
I was beside myself with shock. I was just dumped by my girlfriend, even though I thought things were going great. My initial instinct was to start promising change and control the situation. Although I hadn't gone overboard by begging or texting repeatedly, I was really struggling and didn't know what to do to get her back. I scoured the internet and after reading countless articles and websites, I came across Lee's site and read a few articles. His advice and take on the getting your GF back seemed to make a lot of sense and I felt like I needed some objective help so that I don't blow any chance that I may get. I'm so glad I booked that call with Lee! After a few sessions and by following Lee's plan, she finally contacted me and wanted to meet. Lee's advice on how to handle both NC, as well as how to interact with her in those first few meet ups was invaluable! I am happy to say we are back together and it's never been better. The things I learned about female attraction from Lee I will continue to use in relationships to keep the spark alive and attraction high. The hard part was to trust the process, but Lee's clear and genuine demeanor made it easier to do what I know needed to be done to get her back. I would highly recommend Lee's services if you would like to get your ex back or improve the dynamic in your current relationship!   -Marc
I would add one additional observation, backed up by research findings. When couples have strong skills for talking cooperatively over differences, they find collaborative solutions to "those annoyng little ticks." Often the solution comes just from more understanding of each other; sometimes small changes that each are glad to make also help enormously.

Hi me and my boyfriend of ten years have been broken up for about a month and a half he moved in with a woman only two weeks after The Break-Up so I think it's a rebound relationship not sure if he was seeing her on the side but they both said not but anyways he spent the night with me a month after we broke up and yes we had sex he also said that he loves me and was coming back home he just need more time but he left that was 2 weeks ago and hasn't even called me or tried to see our 2 children I'm very confused at this point is it normal for this to happen? Our problem was that he drank a lot and he didn't spend time with his family so yes I fussed about lot but I have had time to think about it and realize the more you fuss about it the more they Rebelle and do it anyways so I'm willing to just let it go and let him see that it's not a good thing on his own one more thing even though he's in a relationship he told me that I was his and that I better not date anyone else what do you make of all of this please help me figure out what is going on in your opinion could it be possible it's because I made a fool out of my self when we first broke up?
Before you try to win your ex back, work on fixing any bad habits you have or mistakes you made that caused you to break up in the first place. Then, ask your ex to hang out as friends and take the opportunity to show them how you've changed for the better. Laugh, smile, and be positive when you're around them. Wait until you've developed a friendship again before having a serious conversation with your ex about getting back together. For more help getting back with your ex, like what to do if they're in a new relationship, read on!
Avoiding contact is not just a passive-aggressive way to make your ex miss you. It gives you time to do the things you need to do to prepare yourself for a new relationship (whether it's with your ex or someone new!). Take time during this month to get to know yourself as an individual and to work on areas that you may have let slip during your relationship with your ex. If you contributed to the breakup, this is the time to pinpoint your relationship weaknesses and do the hard work to improve as a human being.
So if you have worked hard to bring your ex boyfriend back into the picture and progress is being made on multiple communication fronts, then take an opportunity and drop him a little not.  Nothing over the top.  Nothing about making a relationship commitment. You don't want to spook your ex bf. We will talk about that in another post.  Just something that cements you enjoyed yourself.  Keep it light!
Before you try to win back your ex-boyfriend, you must reflect on what happened in the relationship. You must be careful not to toy with the feelings of your partner. You do not want to cause him any further pain or hurt. If you made a rapid decision without giving much thought to what you did, you need to give the situation much thought now. You need to evaluate the whole situation well.
How to get an ex back through reverse psychology? Well you can start by engaging in their game of bluff! I hear people tell me the following all the time: "my ex says they don't love me anymore"; or "My ex boyfriend said that he still has feelings but that it's probably best that we stop seeing each other"; or "My ex girlfriend says that all she wants is for me to find someone else and to be happy"!
To think you can "make" someone want to be with you is illusory and will only lead to suffering and disappointment. The most important tip here is to be fully in the moment and truly OK with whatever the outcome is.  Let me reiterate that. Being OK no matter the outcome is the single most beneficial advice I can offer. Fixating on your ex, secretly wishing that he comes back to you, or worrying that you won't be able to win him over will not be beneficial to you in the long run.
How To Get Ex Boyfriend Back Fast