My ex broke up with me 8 months ago. The reason he broke up with me was because he said I was immature and I didn't take him seriously. So when he broke up with me we didn't talk until and like 4 days later I found out he was dating his ex again. So we completely stop talking to each other until one day my parents and I went to his house (my parents and his parents get along very well). He was acting so nice to my parents but he didn't say a word until I got a message from him and he was apologizing about everything he did and of course I forgave him. So that day we were talking again and when we were talking out of no where he hugged me and that made me get a lot of flash backs of us together. After the hug he kissed me so we kissed and then I asked him what we were and he said whatever I wanted and I said we can try this again if you want. After I left his house we were still talking and I decided to ask him about his ex. He told him he still had feelings for her and I asked why he was with me and he told me because I reminded him of when he and the girl started dating supposedly I was being like her. I got really mad and we broke again. But we still talked cause we ended up being friends. One time when we were talking he told me that he regrets breaking up with me. But the next day he didn't talk to me again. We lasted for a very long time without talking but I noticed that every time he and the girl broke up he will talk to me. So I got tired of that and didn't talk to him no more. I decided I needed to move on but it took me along time since I still have really strong feelings for and even when I got a boyfriend I still had feelings for him. Barely this passed Saturday I saw him again. It was so awkward my mom noticed that he was really nervous when he saw me and that he was looking at me. I wanted to cry so bad because I remembered all our dates and every single time we said i love you's. And I thought I was over him but I'm still not I still love him with all my heart. What can I do to get back with my ex???
The only way to have a good relationship is if you demand a good relationship from him. If you don't and give him everything he wants in an attempt to get him back, you're sabotaging the relationship and destroying your chances with him. Not to mention, completely undervaluing yourself, which will deeply impact your self-esteem. Now I don't mean you say, "Give me a good relationship or else!" It's not an actual demand. You "demand" it by being a woman of value, by being a woman who knows what she wants and isn't afraid to walk away if she's not getting it. You don't have to say anything at all, it just comes across.
It may be hard to go through your daily routine without her at the moment, but you're going to have to learn how to, since the only way you win her back right now is by being patient and giving both parties some space to recollect their emotions and feelings for one another. The other guy sounds like a rebound right now, and you'll have to let their relationship fall apart on their own before you make a move.
So...there's mounting evidence that Rihanna and Chris Brown are back together. They were recently spotted canoodling at an NYC club, and then showed up together at a Jay-Z concert. Plus, Chris was photographed leaving RiRi's hotel the other night and he released a statement saying that he'd split with his girlfriend because he "didn't want to see her hurt over my friendship with Rihanna." Um...okay.
Quiz Get Ex Back
Work on your self-esteem. If you struggle with neediness, you're probably a little lacking in the self-esteem department. You might be looking for your ex to make you feel better about yourself, but the fact is that you are the only person who can really do that. You shouldn't base your happiness on someone else. It makes them feel guilty, obligated and eventually, resentful towards you.
You'll have to let him realize the mistake on his own before he willingly decides to come back. Not every situation can be controlled when it comes to a relationship because it requires effort from both parties. If the relationship you had with him was a meaningful one, despite the downward cycle it has taken the past few months, he should begin to realize who he values more after some time apart from you.
There are many, many reasons why someone may choose to explore a reconciliation with their ex. But a lot of the time, those reasons aren't exactly good. "People often want to get an ex back because they think it will heal the pain they feel in the immediate moment," says Brandy Engler, psychologist and author of The Men On My Couch. "If they were rejected or broken up with, it can be a strong impulse to want that person to accept you in order to heal the wound of rejection." And that, of course, isn't a good reason to get back together.
How I Get Over My Ex Boyfriend
Probably give it another 2-3 weeks to even a month if you have to, considering that its been some time since the break up but she still doesn't seem ready. You could send the elephant in the room letter after this NC, and if she does not respond positively towards you still, you might seriously want to consider letting go instead, because she may simply not be interested anymore.
There is usually an underlying reason for his sudden change in his behavior. It's something you may have to figure out if you want to win him back, and if it's something that can be resolved or not. Often, it may be a sudden incident or stress in a person's life that causes them to act this way. There's also a chance that a third party may have been involved, as these are among the common reasons for someone to break up with their partners.
I would suggest that you try to stay focused and pick yourself up from this first. She may have the 'pick of the litter', but keep in mind that she did love you through the period you were together and probably still does have certain feelings for you. However, because she is in the new relationship with the other guy which is 'novel', she definitely has taken a stronger interest there at this point because its still a new thing. Work on improving yourself now because if ever there comes a point where you and her cross paths, you would want to be in the position to make a strong impression and to test her true feelings with the other boyfriend she's now with.
If he has met a rebound, he would care less instead about you coming to pick your things, but the fact that he reacted this way means there's a hint of feelings remaining (whether it's positive or negative is yet to be determined) and does not seem ready to face you yet. Perhaps continue to keep things on a casual note, and subsequently first address the relationship and why it failed before proceeding with collecting your stuff or meeting him.

How To Get Your Ex Boyfriend Back From His Ex Girlfriend
With hindsight, Peter could see that the unpleasant situation he found himself in every day at work had left him depressed in the evenings. His response to depression had been to sink increasingly into "poor me" ruminations. "How can they treat me so unfairly? Why can't my boss appreciate my talents?  I'm stuck in a job that's not my thing. I hate having a job that doesn't fit and a boss who's chronically negative."
I Would Do Anything To Get My Ex Boyfriend Back
This applies to your past relationship during arguments or conflicts that you may have gotten into, to the actual breakup, but also moving forward while trying to win back their heart. In order to really understand what your ex felt or feels and to come up with the right approach to connect and touch their heart you will need consider the 360 degree approach 

I Don't Know If I Want To Get Back With My Ex



You just started dating a new guy. You are in that honeymoon phase and everything is great. You are constantly complimenting him and giving him acknowledgment that he is wanted by you. Basically he loves hearing that you are interested in him. However, as time goes on things begin to change. You don't compliment him as much because you don't need to land him anymore. This is when the problems begin for him.
Me and my ex, We've broken up for about a month now and yes, i have been acting crazy and doing all the things i wasn't suppose to be doing. We dated for 7 months and it's the longest relationship we've both been in. I didn't treat him the best-emotionally and we have broken up so many times but gotten back together but this time he said we aren't getting back together and nothing can change it. Our relationship is sorta like Romeo and Juliet. His parents don't like me and my parents don't like him. I really want him back for good this time but after reading all the things to do i realized that I've been doing it wrong that's why he's not sad and he's moved on to another girl. (a girl i was always jealous of and didn't like, he knew this) i realized that it's because i haven't given him a break up yet. I've told him i loved him, I've begged him to come back. i haven't let him feel the break up yet. But even so, i feel like nothing is going to get him back to me. I'm going to try the no contact rule but the thing is i need to see him at work. What should i do?
While Peter was suffering deeply, journaling in emails enabled Peter's initial thoughts and feelings to flow through a natural grieving and healing process. Having a trusted friend or relative to talk with can help similarly. The first shock of a separation typically induces a reaction similarly to the disbelief and pain of loss that people experience after the sudden death of a loved one. Peter's journal entries enabled him to dump, explode and vomit out his distress, launching his recovery process.
We were doing a good job of communicating. Every once in a while we would talk before going to bed about how we were feeling. I could tell that things were not getting better. If anything, they were getting worse. I just kept saying, "look, ski season is almost over. We will have our weekends back. We can spend some quality time with each other and reconnect." And he would nod his head and agree.
Be calm and confident in yourself and what you think you can contribute to her life. In the time you've taken to improve yourself, hopefully you will have evidence of that change. If the cause of your breakup was that you did not have enough time for her, show that you've altered your work schedule and made time to volunteer or pick up that sailing hobby you've always dreamed about. That will show you're willing to make time for things that matter to you. See where I'm going with this?
I would add one additional observation, backed up by research findings. When couples have strong skills for talking cooperatively over differences, they find collaborative solutions to "those annoyng little ticks." Often the solution comes just from more understanding of each other; sometimes small changes that each are glad to make also help enormously.
Hi. We broke up with my girl friend 1 and a half months ago. Since then I did no contact and then sent her a letter suggesting that I support her decision and all that. After a month and a week I went to her country for a surprise visit she was shocked but at the same time flattered. I kept it really cool, told her that I am not there to ask her to come back. Then we started talking and everything and after few hours we started hugging holding hands kissing. Two days went by like this. It was perfect. After I came back we kept in touch and decided to move slowly. Now we talk everyday again. However she said she had to tell me about this guy she went on a date with. Nothing happened but they did keep in touch. She told me she liked him in the beginning but now she knows it was because she was scared to be alone. But then the next day I opened the subject again and she revealed more about the situation. That they made plans to meet and stuff. And now she says she wont be sure until she sees him again and decides that she actually has nothing for him. I kept it cool again and said it is better if we stop talking for a while because I wanted both of us to have time to think but she insisted we keep talking. We changed subject afterwards and everything was great. She was talking about going on to a date and at one point she mistakenly called me her boyfriend which we joked about. Right now it is going good. But I dont want her to get confused because of this guy. What is the best course I can follow? I really need help on this. Thank you.
Hey Ryan, thanks for your answer before, just to let you know I failed to reach the 30 days no contact.. We spoke and we fight again.. This time it was even worst.. I cheated on her on a one time thing (Worst mistake of my life I swear) she knows and I decided to come clean to her, thing is for me lying to her she says it is too late for us to get together again or to trust each other again.. I show her the journal I was writing on her name with everything I'm feeling.. She understood a bit better but the bottom line is that she doesn't want anything to do with me again.. Fact is, I would do whatever it takes for a chance with her, I love her and I was really idiot to to what I did, I owned it and I admitted, Apologized to her 100x times, yet I completely understand where she is coming from and why she doesn't want anything to do with me..
So since the last meet up at his apartment. I left him alone. 6 days after not reaching out to him and trying to do the NC. He texts me late at night while I'm out with friends saying he misses me and if I could come over. I was dumb and called him an hour after I received the text and ask him why he wanted me over and if he was drunk. He said no that he had honestly just woken up and that he didn't realize how late it was that he missed me and if I could come. I asked for what and he said to talk. I got my hopes up thinking he was gonna give me answer to thinking about us and giving us a chance. I further asked him what he wanted to talk about and then he became vague. Then I felt like it was just a late night booty call and told him that I wasn't that type of girl and to not treat me as one. He then continued to ask if I would come over that we could talk but never said what about. He then was like forget it's a bad idea and maybe we could tomorrow instead. I told him I was busy tomorrow but I'll see. Tomorrow came and by the evening I texted him like an idiot I feel if he still wanted to talk and he was like it's not a good idea, I'm sorry. I replied with I guess we know why you really texted last night and he stop replying after that. What do I do now? I want him but then again now I feel like I shouldn't
We lived together only once before this last time, you see his mom was diagnosed with a rare cancer and he and his sister basically did it all(their dad just couldn't handle it emtionally, I guess. I even helped with cleanings) she died slowly and painfully in the house. While his sister lived down the street with her husband he and his dad stayed there and then I moved in. It wasn't ideal only in the sense of living under the same roof his mom died and it wasn't our home, but I didn't want to say anything cause she was his rock. We had our ups and downs we didn't necessarily fight (rarely raised our voices)more like bickered and yes I nagged:/
Most men think first with their egos, and you can use that typical male psyche to find a place back in your ex's heart and mind again. All human beings have an innate desire to feel wanted and appreciated for what they are. Your ex-boyfriend wants you to want him – even if he took the initiative and ended your relationship. This comes across as extremely selfish, even though it is not intended to be. Your ex has actually built up a lot of their self-confidence on your behavior up to this point. Your ex is counting on the fact that you're going to pursue them, and they've based a lot of their self-confidence on this one, clear assumption.
Sorry in advance for this being a bit long. My ex and I were together for about 3 months and we were both really happy during that time. Towards the end though she started stressing at the idea of committing to a relationship. I also was panicking because she has lots of guy friends and she was hanging out with one of them a lot more than normal(But now I know there was never anything between them). She started distancing herself and stopped talking to me and after a month of this I told her that she needs to tell me what's wrong because I couldn't go on in the relationship without any communication from her. She apologized and said that we should just be friends. For the next week I was openly sad, even with her around because we work together. Eventually I just started NC and went for 2 weeks. After that I tried talking again and after a week I realized that I still wasn't ready so I did NC for a month. She tried contacting me multiple times during this. After the month she texted and apologized for everything that had happened and she wanted things to go back to the way they were between us (she wanted us to be just friends but still talk to each other like we used to). I decided ok she misses me it's only a matter of time so we got really close for the next 2 months and really seemed like she was attracted to me again. Then I started to panic because I knew I would eventually have to ask her if she wanted to get back together. So I stopped talking because that's what happens when I stress. She noticed then asked what was wrong and I told her that I had feelings for her again and I understood that she probably didn't feel the same but I just had to let her know how I felt. She didn't respond much to that so I did another no contact for 2 months she only tried to contact me once. After the 2 months I apologized and since then we have been closer than the first NC but not as close as when we were together. She's been going hot and cold lately though. Like one day we'd be talking and is feel like wow this is just like the good old days I love her and others she's just giving one word responses and I'm left with a headache because I over think everything. What should I Do? Sorry this was so long and thanks for reading it.
You have spent a month not contacting your ex. You spent that entire time working on yourself becoming more and more confident as the days past. Everything seemed to be going fine until you hit your first road block with a negative response. Make no mistake about it, negative responses are never good. However, they don't EVER mean that you should give up right away. It just means you have to be smarter about how you approach things. Lets take a look at a negative response example (from my past) this is a true story.
my bf of a year and i decided to break up cuz we thought it was the healthiest option we had. we were in a long distance relationship and we both have depression. we talk to therapists once a week. he and i work almost everyday so didnt really get to talk to each other.(we also have like 8 hour time difference) we broke up over a phone call, he said that he stills loves me a lot and misses me. he told me to not delete all those pictures on FB cuz he wont as well and wont try to forget about me. i'm moving to Europe in 3 months(he lives in Europe) and he wants to see me when we close the gap. He said we could try to recover the relationship when we see each other and now we just have to give each other some space to work on ourselves and be stable. 4 days after we broke up, he sent me a message out of the blue asking is i was doing okay. i said i was fine and asked him if he wanted to talk. and he said he just wanted know. i know i have to go no contact at least for a month, but this break up doesnt feel like a real break up to me tbh. it just feels like a break. do i still have to go no contact and ignore his messages when he texts me? i wont initiate any contacts tho.
In the next few weeks, you need to have a new man interested in you. Find one or fabricate one, but by all means you have a new flame according to anyone that he may know. You don't need to announce it in smoke signals, but if you are asked, smile and discreetly say that yes, you are dating someone. It may sound nuts, but it does help you gain the piece of mind. If you're not ready to date and still missing him every second of every day, that's fine. I understand. But HE doesn't have to know that.
Get Ex Girlfriend Back After She Dumped You
Do you remember how you were before you met? Go back to being that girl. A lot of times when people enter a relationship, they change and they no longer have the qualities that made their partner fall in love with them. They stop keeping up with their hobbies, meeting friends and doing other things that made them fun to be with. This could happen when you have dependent or possessive people in a relationship. It is best to go back to the person you were before the relationship. You need to be the girl he fell in love with.
There were a few problems in the past. He's very sensitive and when he gets stressed he can't handle much emotion. Because of this, he "broke up" with me in the past. It wasn't really a break up, he kind of just stopped talking to me. It only took one or two days for him to reach out. He said that he was so sorry and that he was so devastated when he didn't talk to me. He said that he couldn't see himself with anyone else and the "break up" made him sick. I thought that this time was going to be like those in the past but after a few days he was still being cold. It's been about two and a half weeks now since he broke up with me and a week since the last time we talked.
This applies to your past relationship during arguments or conflicts that you may have gotten into, to the actual breakup, but also moving forward while trying to win back their heart. In order to really understand what your ex felt or feels and to come up with the right approach to connect and touch their heart you will need consider the 360 degree approach
Now its been 2 months and we text daily and i did no contact for 2 weeks. However, he doesn't text me as often anymore (30 - 10 hours for a reply), hang out with me, or ask me to hangout with him like it was during our post break up before I went no contact. Now I feel like he has moved on and lost me because he is always with friends and never reaches out to me. Should I move on too or still try to get him back and rebuild what was lost?
Do Subliminals Work To Get Ex Back
You just started dating a new guy. You are in that honeymoon phase and everything is great. You are constantly complimenting him and giving him acknowledgment that he is wanted by you. Basically he loves hearing that you are interested in him. However, as time goes on things begin to change. You don't compliment him as much because you don't need to land him anymore. This is when the problems begin for him.
You need to get his attention again. One way of doing that is to change your appearance. Get new outfits, change your hairstyle, change your style in various ways. A lot of times, people get used to one's appearance, so they no longer notice the beauty of the person again. If your ex-boyfriend lives in the same area or works in the same place with you, you can get him to easily notice you. If not, you can upload hot images of you on social networks like Facebook and Instagram. This way, he will notice you.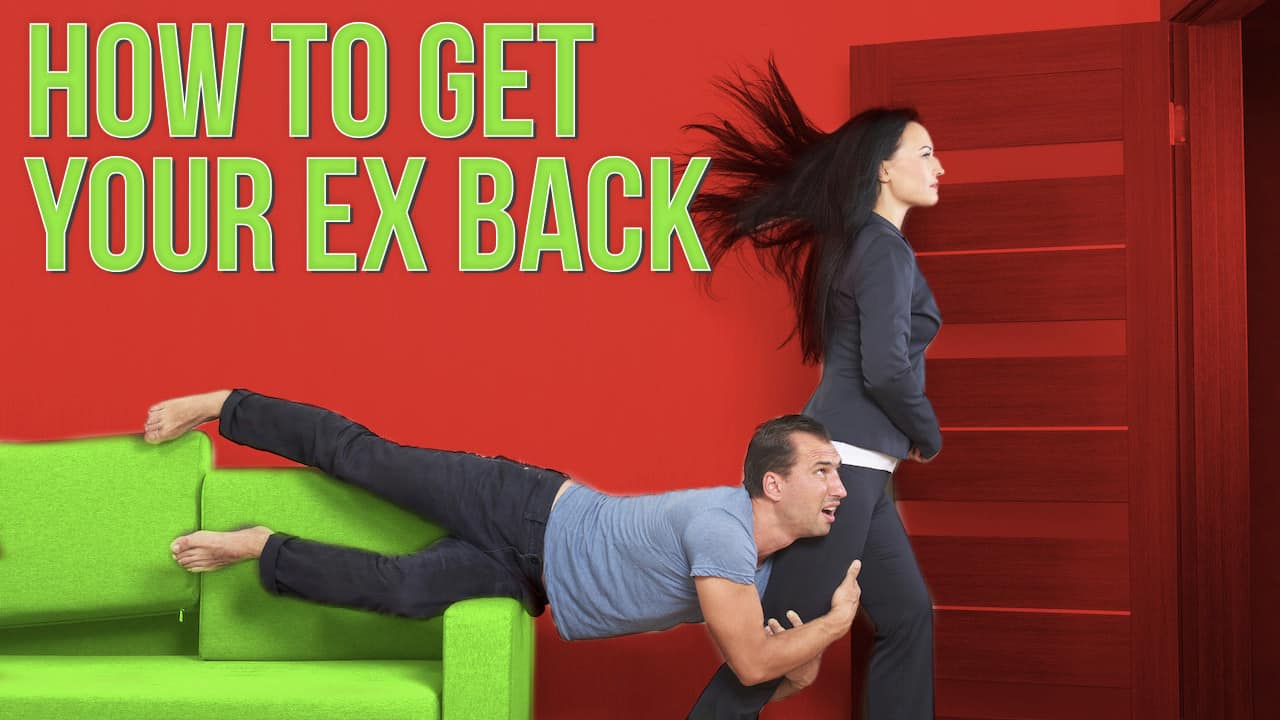 Hi there, I have been reading tons of advice you guys offer to permanently get your ex back and recently me and my ex broke up 1 year and 8 months into the relationship. We broke up because she said that I didn't love myself, which I realize this now because I had so many insecurities that caused the energy between us to go downhill with my jealousy, trust issues, and depression. I realize all of mistakes now but the 1st week after our breakup I was super needy and desperate, I would contact her and make up lies to just see what she was doing and just to talk to her. I have recently started the no contact with her hoping that maybe she will miss me when she is wondering what I am up to. She told me that I need to move on and just do things that I wouldn't be able to do in relationship such as flirt with other girls, go to certain type of parties, talk to my friends constantly and to just have fun period. She says she has faith with us but she has no idea when she will feel ready to go back into a relationship with me. She also said I have to move on and let go and come back when I have a chance, "To let the bird fly away and if it's meant to be then the bird will fly back." I am just worried because from the looks of it she has already moved on, went to three parties already, and I know she is talking to this guy. I accept that she is doing all of this because I know she just wants to have fun because I used to be manipulative and controlling. I know all of my mistakes now and during this no contact period I want to work on myself and love myself. I accept the fact that if my ex don't want to get back together that I shouldn't sweat about it because I will find someone else, but she has made such a huge impact in my life that I just simply choose to be with her. She simply made me happy but I didn't make her happy. What could I do to fix all of this and perhaps start a new relationship in the future. I wont see her for 8 months because I will be in the army then after that I will be attending the same college as her. I hope that by the time I come back she will be single and had the fun she wanted to have so I can talk to her about giving us another chance. Thank you for you time.
Talk to his friends. If you have mutual friends or if his friends would be willing to talk to you without telling your ex about it, consider asking them what they think the chances are that your ex would want to get back together with you. They are more likely than you to know if he has a new girlfriend or if he's dying to get back together with you.[5]
Yes, I felt free in a way but totally sad 'cause I did wanna hang or talk or something, but he's been a jerk for ignoring so long. I need to respect myself, but I want him back too. I haven't blocked him from WhatsApp or Facebook, don't plan to really, and I haven't talked to him, but I really miss him. Should I just stand my ground and not reach out to him? I feel like this is the right thing to do and perhaps try to move on, but I love him. Thank you so much for your help and time, it means the world to me, well, to all of us.
My ex-girlfriend and I broke up last week on Wednesday 12th. We had been together for almost three years which it should be tomorrow 19th. In the past, I mistreat her and cheated on her where I made a big regret for it. Last May 2018, she broke up with me then I worked so hard to get her back in June. By time, our relationship got improving from time to time. Recently, I talked to girls(whose I flirted with them in past) as long as I know my boundary. I learned a lesson. Apparently, she was still obsessed about the past what I did to her where trust issue came up. In several days ago, I was so pretty devastating then getting better day by day. Then I read this article and learned a lot about No Contact and many good information that I never learn in my life. I startled No Contact since Friday night 14th. I just hope that space and time give us healing and someday getting together later.
Hello.. I really need help.. My Ex and I broke 3 weeks ago and we've been in a back and forth, me trying to get her back and she finding out more things that made her be really sure about never going back with me.. I lied to her in a bad way and I hurt her a lot because of my lies... I have apologized several times for that.. Yet I haven't apologized for my attitude after the break up..(We said many emotional things).. Everytime I was apologizing for what I did was trying her to forgive me and get her back... Without understanding her feelings.. I wonder... It has been 3 weeks and I haven't apply the 30 days rules (Wish I saw this earlier).. 

Free Get Your Ex Back Coach



When she contacted him, her ex was very excited. This time, he asked to meet up. When they did finally meet up, Mindy was a little bit disappointed in him. He was still the same person. She felt that he was manipulative and controlling. He wanted to keep her as a backup while fooling around with other girls. The second date confirmed her feelings when he told her that he loves her but doesn't want to commit yet. She found out from her friends that he was dating a couple other girls as well.
How To Get Rid Of A Jealous Ex Boyfriend
Wrong. The truth is, your girlfriend wants to be important to you, but she also needs you to have other activities in your life that don't include her. Because, if you've made your life all about her, it'll be a case where she sees that she's 100% won you over. Women get bored of men they've won over fully. Why? It makes them think maybe they could do better, and that's the last thing you want your girlfriend thinking.
How to get an ex back through reverse psychology? Well you can start by engaging in their game of bluff! I hear people tell me the following all the time: "my ex says they don't love me anymore"; or "My ex boyfriend said that he still has feelings but that it's probably best that we stop seeing each other"; or "My ex girlfriend says that all she wants is for me to find someone else and to be happy"!
My ex ended this 1st April (nearly a month ago). I begged. After day 1 he wanted to talk. After a week he never wanted to see me again. I did NC for 4 days until my sister told him to message me (I got sexually assaulted and needed emotional support). He messaged me. He seemed off. We spoke every day. Well I went one day (a couple of times) not replying. I found out I was pregnant. I told him. He was good about it. He told me to get rid of it. I got scared. Basically I messaged him saying I can't. We argued about me needing him and he said he doesn't know what to do. Yesterday I said I'm bored of feeling hated. I need my friend back. He said he doesn't hate me. I went on about feeling hated and being scared of the abortion. I asked if he could see me. He YELLED at me. I ignored him (which is what he wanted me to do all month he even said I went crazy) but 10 minutes later he messaged me back calmer and with this solution: He said I could see him (in Germany) if I get the abortion and it'll be the last time we ever see each other and we can have a proper goodbye. I went on saying I want to see him before. It ended up him saying he did hate me. I killed the guy I dated (because I said I missed what he used to be like). I messaged him yesterday and he said I can go and see him after the abortion. I asked if he still had access to my Facebook account he said no. I said I hope he is well. Also he told someone that he couldn't stand me earlier today. Should I initiate NC properly now? Is there any hope? Why would he start off saying he didn't hate me and now does? Why would he double message after I ignored him when he yelled? I'm so confused please help me.
we had no contact for about 2-3 months and since it's approaching his birthday again this year, i contacted him through our mutual friend to do a catch up. we agreed to hang out, him, our mutual friend and me, the 2 of us for the weekend. an afternoon around the city, for a swim/hike, dinner and drinks at the club and lunch the next day before i head back home.

Hello! So I've given her (and myself) a bit short of a month of space/no contact after a dreadful first week of the "desperation phase" as I call it. And now, I've tried messaging her again and thankfully she still replies. But I think my mistake is that I brought up what went wrong (it was never perfectly clear why we broke up) after a few days of casual conversation (in which she talks coldly towards me, btw). She also clearly stated she doesn't like talking to me anymore AND she hates me now. What do I do?
Nlp To Get Ex Back
This was not the type of relationship I had hoped she started with her ex. And I truly believe it's because Margarete skipped this step. She did no contact. But she never grieved and regained her individuality. In my opinion, she should have extended no contact until she regained her self-confidence. But the idea of getting back together was too tempting for her to listen.
Last week my boyfriend told me that he needed time to "think about us" because he wasn't sure if my family would accept him, this was 2 days after he repeatedly told me he loved me and that he would make an effort to be a better boyfriend. Initially when he told me this I said my piece and explained to him that he was hurting me by shutting me out, but the following days I didn't contact him and he didn't contact me. On the 5th day I decided that I didn't want to be in a relationship with a man who wasn't sure about being with me. So I sent him a text stating I wanted to pick up my belongings and that I would come by after work the following day to retrieve them. The next day I contacted him to make sure he was home, he wanted me to stop by later than I planned, but I told him I wanted to get my things as soon as possible and be done. My exact words, he agreed to meet me and said he would be there when I arrived. I walked in his place grabbed my things didn't say a word accept thank you when he handed me my shades and walked out without even looking at him. I deleted his number and unfriended him on facebook before I drove out the parking lot. I showed zero emotion but they truth is I'm really hurt because I loved him. I would be open to getting back together with him. I have been on a date since we broke up and another man is presently pursuing me(he has stated he wants a relationship) and I am rejecting him because I still have feelings for my ex. Did my actions drive him away for good, ( he knows I unfriended him because he blocked me) I don't know if the No Contact rule will work with him because he uses the silent treatment himself. I will NEVER initiate contact with him because my pride simply won't allow it. However, is there anyway to know he wants me back?
I started no contact after a phone call five days ago. Friday is her birthday however. I want to do no contact but think it's rude if I don't wish her a happy birthday. Do I use the birthday as a first step of positive texting then continue no contact for 30 days? Wish I read this earlier. The neediness was the worst look and clearly hurt more then helped.
He broke up with me first: he said that it was because he felt like we didn't have a future together, that it felt impossible that i learned the language ( which i was doing), that I was asking for too much of his time, that he didn't feel like he could do all the things he wanted with his friends. but I couldn't accept it, I wanted to fight for the love we had, so much, I negociated, I asked for more time, I begged, I told him that if he still loved me it would be worth it. after a day of speaking he said ok. A week after I asked him again ( because I was afraid and I had been walking on eggshells all week), he said that he still had that feeling that we wouldn't be together forever, but he told me he loved me and he really wanted to work for it, to work on it and make it work! ( i was so happy!)
I am chief ifadaisi Babaikuku +2348107308707, from bendel State I'm one of the powerful spiritualist that offer both African and White witchcraft Spiritual spell as well as its removal. Contact me today for solution to the following: Making money with animals blood, Low sperm count, Hepatitis B, High blood pressure, Financial problems, Traveling issue, helping of students, political issues, Purification and Spirituality, promotion in your place of work, getting a new job with better pay, getting your ex back, winning court case, making your husband or wife yours forever, if you always have bad dreams, if you want women/men to run after you, If you want the fruit of the womb a child, if you want to be rich, if you want to tie your husband/wife to be yours forever, If you want to stop your Divorce, Marriage Spell, Miracle Spell, Beauty/ win a beauty pageant Spell, PROPHECY CHARM, Attraction Spell, Remove Sickness Spell, ELECTION WINNING SPELL, SUCCESS IN EXAMS SPELL, Charm to get who to love , Charm to make your business grow. Call I don't why is so difficult for you to follow the manager instructions enable you received the money. Call him now today +2348107308707
Getting Ex Girlfriend Back Success Stories
And while we're talking about jealousy, you should also try to refrain from reacting if he posts a picture with a girl, or likes a girl's social media posts, or even if he starts dating a girl. Jealousy is ugly, unattractive, and destructive. Maybe you're hurt that he seems to be moving on, but lashing out at him is not going to swing the pendulum back in your favor. And you really don't know what's going on. Maybe it's a rebound fling, maybe the girl in the picture is his cousin, who knows and who cares? This is not where you should be putting your attention at the moment.
How To Get Your Virgo Ex Boyfriend Back