You are hilarious!! I am laughing so loudly whilst reading your articles….I'm scaring my dogs! I came across your website while I was googling and trying to understand why my now ex-fiance 'assbag' of 4 years breaks up with me (2nd time in 3 months), demands no contact then calls me, bawls during the conversation then tells me "he says he needs space" AGAIN…. he did this 3 months ago also…so now I'm thinking he's emotionally inept and I'm left feel totally confused. But I am finding your articles are helping me alot….so thank you!!!!
As you have never officially been together, NC may not be the best idea unless the period of 'dating' was long enough and filled with the same amount of memories created as a normal couple would have. I would actually suggest trying to work things out first and communicating whatever you feel across and to assure her about the freedom issue she worries about.
He thinks he still controls the situation and is clearly taking you for granted that he has the option to come back at any time he wants whenever he feels like it. You need to regain control of your life and family, make the decision to walk away and until he realizes his mistakes, he isn't going to change or be a good role model for your kids. He needs to realize that his actions are wrong and not acceptable to his family, and he needs to begin respecting you or at least fear the reality of you leaving permanently. The best way to do that is to walk away and treat the situation as it is - an unacceptable one where he can't have the best of both women and not take responsibility for the kids or when things get tough, and drink away his problems.
It was then that I started NC (I had to tell him what I was going to do because we call and text so often). I'm hoping that this will work because I do want him back, but he seemed very unhappy (and slightly angry) when I told him that his actions are confusing me but he cannot make a decision on which girl to go for. And honestly, I was hoping during this NC, he will learn how to live without me (and vice versa). However, this situation is different as he has another girl to console him. Will this still work out happily for me?
Well she called me Sunday and I was asking her what was wrong. She said she didn't know, she just didn't feel like herself and that she felt weird. She was acting kind of weird like she wanted to tell me something but was playing dumb. So we stay on the phone for the rest of the night just talking about whatever. We laughed n shit. It was good. Then she told me that she wanted to play Fortnite Saturday night but didnt wanna bother me. I said I did too but I didn't because of the night before. I told her I was surprised that she called me to talk. She asked "you didnt want me to?" and I said "no of course but again, friday". She said "yeah I know". I told her why I didnt talk to her Saturday so I could have a clear mind about things and what happened. Told her I missed her and we got into talking about getting back together. She was taking it really well and listening. Not much conversation. She said she was gonna get a shower and that shed call me when she got out. So she calls me back and I was gonna forget the conversation but she said "you had something you wanted to talk about?" and I thought she wanted to talk about it too so I brought it up again and she just said "well I already told you how I felt on Friday". I said "yeah I know" and changed the subject and we fell asleep on the phone. She also facetimed me for a lil while like we used to.
There was no "trick" to getting Mary back for good. Going through a tragedy had changed me. It was terrible, but it helped me grow the hell up, and by the time Mary and I crossed paths again, I was ready to be the kind of person who texts back and keeps plans and buys presents for no apparent reason. We don't yell at each other in the street anymore, and that's pretty cool.
Peter also switched from "awfulizing" about his work situation from a stance of helpless victim to taking a problem-solving stance. What could he do to find a more positive work situation? He began networking with others in his field, stumbled on a job that sounded far more suitable, applied, and at this point is looking likely to get the position.  
Throughout the month of March, my other co-workers started to bring their friendship to my attention (which didn't help my feeling of jealousy). It even went so far as our boss (and friend) pulling him into his office to tell him that it was not ok how much of his free time he was spending with this girl and how bad it looked. In my ex's eyes, this just made it worse. It is like when you tell a kid not to eat a piece of candy, all they want to do is to then eat the piece of candy. Now, I am not the kind of girl to tell someone who they can and cannot be friends with. But when that person is a good looking single girl who follows you around like a puppy dog and showers you with attention. Yes, that is going to bother me. Especially when she does it in front of you. And yes, it is hard to hold the jealousy back sometimes. He could see that I was uncomfortable. But really, he shouldn't have put me in the situations in the first place. And still, he made me feel as though it was my fault that I was having these feelings…
We don't like to call each other "ex", so my friend and I were together, but we broke up a year ago due to a stressful issue. We have remained friends, and still wished to be together. But now, he is starting to date someone else who is more similar to him. I did some stupid things, and it felt like I got this big slap in the face- he was always right. He always was telling me things that were disconnecting us that were things I needed to work on. He admitted to me that he was scared of being with me, let alone staying friends. I've told him that I felt this slap and everything and that I'm going to change because I've been making myself unhappy. But I'm also very determined to reestablish our relationship as a couple and not just friends. I'm scared of what will happen, but I know I have to move forward and be better for myself. I realized I've been letting my emotions control me and that it has been destroying myself and my relationships with other people. He is someone I see frequently (fyi, not a co-worker) and we text a lot still. I'm still afraid. He loved me once, he even got me a promise ring of sorts… If he sees me changing for the better, will I still have a chance? The fear comes with the fact that there is another woman who could steal his heart. Yet the funny thing is, she loves and adores me beyond anything. I am not sure if she is romantically interested in him, but I definitely wouldn't call it unlikely. She also knows my history with him. It's tough, but I want to become the woman he always thought I could be, which is someone amazing. I don't really know what I'm asking now, I think I just need some support and to know that I'm doing the right thing, and that I'll be okay… I can't just forget about how much I want him back by my side.
How To Get Over Your Boyfriend's Ex Girlfriends
Oddly enough, many of my clients were successful in re-establishing contact with their ex boyfriends by simply not even trying.  They didn't do anything except move forward with their lives, focusing on bettering themselves personally and professionally.  In a way, it is a form of what I call Passive No Contact or Passive Radio Silence.  It works for some people.  They figure that if their boyfriend dropped them, then so be it and instead of becoming dependent and addicted to their ex boyfriend, they choose to embrace other things in their life, doing those things they want to do and accomplish. Then as they focus on those things and have success, often times their ex boyfriends show up realizing they made a huge mistake letting their girlfriend go.
Interpret your emotions. In the pain and confusion of a breakup, it can be easy to confuse your emotions, interpreting feelings of loneliness and hurt as evidence that you need your ex back in your life. In fact, almost everyone who experiences a breakup initially feels remorse for the lost relationship, coupled with feelings of anxiety, guilt, depression, and loneliness. Generally, the more serious the relationship was, the more severe these feelings tend to be; couples who are married or cohabiting tend to have the worst breakups, whereas those who were casually dating tend to have an easier time in the aftermath of a breakup.[1] But the severity of your feelings does not automatically mean that you should get back together with your ex.
Interpret your emotions. In the pain and confusion of a breakup, it can be easy to confuse your emotions, interpreting feelings of loneliness and hurt as evidence that you need your ex back in your life. In fact, almost everyone who experiences a breakup initially feels remorse for the lost relationship, coupled with feelings of anxiety, guilt, depression, and loneliness. Generally, the more serious the relationship was, the more severe these feelings tend to be; couples who are married or cohabiting tend to have the worst breakups, whereas those who were casually dating tend to have an easier time in the aftermath of a breakup.[1] But the severity of your feelings does not automatically mean that you should get back together with your ex.
So me and my ex were in a long distance relationship for 2 years. I was in my career and he was just finishing up school. We met in another state and have always been long distance. So when he graduated, im thinking that we would finally get to be together. Wrong, he broke up with me. His words were im not leaving you, im leaving the relationship. I still love you and still feel the same, I think that we need to just be friends" So basically needing time to get himself together, which I can respect. At first, I was pleading, then I told him I couldnt be friends. Then, I said yea im ok with being friends because there was so much going on in both of our lives that I feel like I wanted to still be apart of. So for about 5 days after that our only contact was words with friends (Scrabble). The game has ended and now we are officially in the no contact part. He still has our pics up on his page and last time we talked 2 weeks ago, we both said "I love you" before we got off the phone. I really believe we were the two right people at the wrong time. Its almost been a month and each week gets easier. He was my first love and my best friend. This article was nice, my only confusion is you said Id reach out to him after the no contact rule, but most advice Ive gotten is "He broke up with you, You should wait until he hits you up". Im new to all this heart break stuff. He was my first and Im still at the point where I want him to be my only one. Thank you!
So I'd like to preface this by saying I'm a woman and my ex-fiancée is a woman as well. I do find most of this page to apply, but it is challenging having two women with all of that emotion and overthinking. I've finished with the no contact period after my ex broke up with me, and contacted her with my "elephant in the room" message. I know she's in the "missing phase" from texts she's sent me, and thought it was the perfect time to send it. I am in a good place and am feeling more positive every day. I was prepared for the possibility of her responding, and how to close the conversation before giving her a few days of digestion. However, I was not prepared for her response. My message included: an apology for my behavior after the breakup, that I accepted the breakup and think it was for the best, and my positive change. Her response was "I'm glad you're doing well. I'm not." I'm thrown off by this, because I'm almost worried that she's under the impression I'm moving on (although I never said anything of the sort), and she seems almost upset at my message. I'm unsure on how to respond to this- hoping you can offer me some advice. I could be totally overthinking this, but we were together for five years and I know her very well and can decipher texts. But now that we're broken up, I could just be analyzing too much. Please help! I really don't want to screw this up :)
The man I love used to treat me like a sidekick. He would go out with me some times and sleep with me, but continued, as he said himself, "to look for the woman of his dreams". I wanted to be that woman and did everything I could to be perfect. But he didn't notice any of it! And I finally blew up and told him everything I thought about the situation.
Hi, I just want to ask for advice. I've been broken up with my ex for over a month now. Fresh from the breakup, we still talled daily and met up at least once a week. During that month, she acknowledged that she still loved me but she still wants to remaon single because she is not in a safe place to give commitment. I, being the clingy dude I was, tried winning her back, even calling her over the phone. She would still answer when I call but is still firm on her decision. Finally last week, she said to me straight up that she had enough of me always bringing up the past and says she doesn't want to talk to me anymore so that I could move on and that I should forget that I stood any chance of getting back together with her. However, she hasn't blocked me on social media and my cellphone number. I'm not so sure how to feel right now, or if there is even a way to save the relationship. She said she broke up with me because I was too clingy, there would be times where we would have an argument because sometime I would see her online and would not give even a hi to me, even though she sais she doesn't really know why we broke up. Anything I can do to save the situation?
She said that once she finishes everything she was doing we would talk, that she needed space for herself...And the same day she did finish I noticed that she did unblock me. I didn't initiate that day, but the day after and late like 8 or 9pm, being casual, asking how the studies and the project went. She was very short and I congratulated and she replied with a simple "thanks"...Then she asked me about my day an hour later. We did talk for a bit and she was talkative, I was able to say that I was doing therapy to overcome my fears, that I knew the origin of them now and afterwards I just said sorry to her for what hapenned between us and she was like "it is ok now, things happen for a reason, you have to look forward now and be happy with yourself", things like that...I did leave it for a bit but I told her that there were a thousand things I wanted to tell her but that I knew I had to shut up, and she said "I told you, once I finish up we could talk, if you are going to feel better do tell me", and I told her that I would like to meet in person to talk and she agreed.
Posting here for sanity. I was moving on and got to a good place and just like herpes he came back. Gave me the line that he has had a really bad week, he wants to talk to me. I ate up that breadcrumb up like my life depended on it. Back to checking up on him on FB, back to checking my email 36376799x a day. Now haven't heard from him again, but he has time to like sexual garbage on FB and be on FB all.the.time. Pretty sure he is chatting up others, but why do I flipping care? how many more red flags do I need? Moving on….again.
Know when it's not working. If you'd been back with your ex for a while and something just isn't right, then it may be true that you did break up for a good reason, after all. Some couples thrive on the drama of breaking up and getting back together, but there's usually a reason why two people can't stay together, and it's that they just aren't right for each other. If the same problems are creeping up again, or you or your ex just aren't happy, then it may be time to take the relationship off life support.
Before we broke up we had talked about our relationship long-term and we both had the same hopes. Everyone saw our relationship as the real deal, and he even said it too. He said he just needs time to focus on himself, which I understand and that he still doesn't know what he wants. I am hoping that in the next few weeks we are both able to get our heads clearer and he is truly able to think about getting back together while I am focusing on myself. However, I am just not sure if the situation is going to change at all and I don't know what else I can do.
To be frank, no one can say for sure whether the next relationship that our ex gets into would last long or not, but you'll also have to think logically about it and realize that after 4 years of being together with one person, getting into a new relationship with someone else would come across as novel and exciting. It may not be awhile until it actually hits him, and he realizes that he had lost something valuable (you), and decides to talk to you again, especially if the new relationship starts giving him problems.
The key to succeeding in this very first step is keeping your emotions in check. This is usually easier said than done, especially after a breakup when our emotions are usually running wild! When you miss your ex, it's easy to let emotions and longing take hold, causing you to reach out to him in an attempt to stay on his mind, or maybe to reignite the spark.

"Hi! I've been a fan of your work for over five years now. When I broke up with my ex, I was devastated. Then I read a lot of your stuff about getting your ex back. It changed my thinking and my thinking changed my life. I worked on myself. I started doing makeup, became a makeup artist, launched my makeup line, and have started to get recognition. I feel so good about myself now and I have no regrets. Now my ex wants me back but I realized I don't want to go back because I'm moving forward. Thanks for everything you've shared and written."
The relationship is going really well in the beginning. You are seeing each other often and enjoy one another. You begin to prioritize him over other things going on in your life, like hobbies or nights out with friends. You tell yourself you are comfortable and don't need to be "out there." Everything is just the way you like it until… for some reason, you feel him pulling away.
Instead of worrying about whether he has feelings for you still or not, why not spend the time hanging out, having fun, flirting, and re-creating those feelings on your own accord? Emotions aren't set in stone and can easily waver, so it's up to you to take the first step in not letting what he thinks affect you, but doing something to try to get the result you want.
My bf and I 've been together for 1.5 year in a distance relationship but we both had met each other a lot as he come to visit once a year, and now we just break up for 2 weeks ago cuz of he didn't have enough time for me then i asked him for break up. After that i realise that i love him a lot and i don't want to lose him but he said we can't get through this again because he doesn't have enough time for me , he need to study more. and during we were together we always flight , but i still chat ask him for a chance but he said he can't do this again. He said he still loves me but he want me to have someone who can fulfil my need. What should i do , should i start to distance from him? But i feel hard cus we are on a distance relationship.
But sometimes filling your life with positive things is not enough. In fact, having a good vibe isn't really about having the things you love around you or trying to imprint the idea that you feel good into your mind. It's more about removing the self-destructive, negative thinking (and the behavior that the negative thinking creates) – i.e. changing the lens that you see the world yourself and your situations through.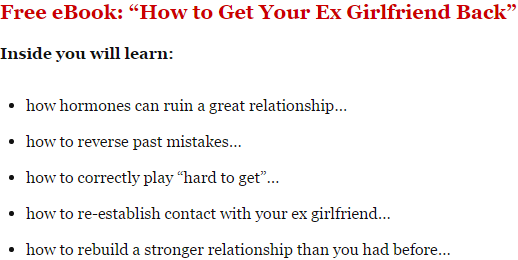 The process of getting back with an ex is not always easy. If it was you wouldn't be doing research on the internet and you wouldn't seek the help of relationship experts. One of the most challenging aspects of this process is the need to be self-critical and to constantly ask yourself the right questions to make sure that you act the right way and not fall into any of the pitfalls along the way.
What does it mean when….. I said I want things over as I don't think he's in right place for a relationship (and he agreed) and I explained I wasn't happy that things weren't progressing, not enough respect etc…..he came back asking if I'd met someone and if I change my mind to talk to him again; I replied that I am opening myself up to dating again as there's no real commitment with us; and that I think things would need to be different for me to explore more with him (as I don't want casual or to be a texting buddy)….he then said in a midnight text 'me too, about your honesty' (which confuses me?) and I haven't heard from him for over a week…and then not long after he accepted my long outstanding Facebook friend request (with friends/photos not accessible)……I don't know what to read from that? And I've not contacted further.
Italiano: Riconquistare la Tua Ex, Português: Conseguir Seu ou Sua Ex de Volta, Deutsch: Deine Ex zurück gewinnen, Français: reconquérir son ex, Русский: вернуть своего бывшего, 中文: 与你的前男友或前女友重新开始, Nederlands: Je ex terugwinnen, Čeština: Jak získat svoji bývalou dívku zpět, Español: recuperar a tu ex, 日本語: 別れた恋人とよりを戻す, Bahasa Indonesia: Mendapatkan Mantan Pacar Anda Kembali, العربية: استعادة شريكك السابق, ไทย: ได้แฟนเก่ากลับมา, Tiếng Việt: Giành lại người yêu cũ, 한국어: 전 애인과 다시 결합하는 방법, हिन्दी: अपने एक्स को वापस पायें
We were doing a good job of communicating. Every once in a while we would talk before going to bed about how we were feeling. I could tell that things were not getting better. If anything, they were getting worse. I just kept saying, "look, ski season is almost over. We will have our weekends back. We can spend some quality time with each other and reconnect." And he would nod his head and agree.
On Monday, I brought up the other girls name and it ended up in a big argument. I have major trust issues now after what has happened but he doesn't understand! The same girl is working with him AGAIN. He has since called it off with me and has started messaging her again. He says I have pushed him too far this time and I am stressing him out with mentioning things that have happened. That I ruin everything and there is no going back.
I don't think you should try anything right now, until you've at least learnt how to stand firm and not let your partner trample all over you. Keep in mind that it always takes two hands to clap in any relationship so it's never completely one person's fault only (even if she tells you so). Unfortunately, as long as you remain like this, she is going to always take advantage of you no matter how many times you get back together with her and she may even think less of you each time. Learn to respect yourself first, if you want to win her back and have her eventually respect you as a partner.
It may not be possible at the start, especially when the breakup was recent and memories of the relationship are still filled in both party's heads. He could be contacting because he misses you to a certain extent but is conflicted and distracted by his new relationship, resulting in him acting this way towards you. Depending on how recent, I would suggest going into NC for now to give each other some space first.
How To Get Your Ex Boyfriend Interested In You Again
Lauren, I believe your advice about giving the ex space is on point and I wish I had given mine a lot of space. I broke up with a man who suddenly dumped me with a phone message when he knew I was not home. Friends of ours told me to give him space, and I did not; big mistake on my part. He is with a woman he and his parents know, she is old enough to be his mother. He sometimes chats when he sees me in the area. I began to feel like I'm sitting on the back burner and decided to just greet him and not chat unless he wants to chat. A good male friend told me to give him six months, it has been three months, so I'll see what develops....

4. Good response so far? Suggest a short, low-key meet-up, like going out for coffee. It's neutral, so you're not putting yourself on the line too much if the romantic interest isn't there on his part. Or, propose revisiting one of your old haunts, like the bar where you used to meet after work, or your favorite Thai restaurant from back in the day. Being in that familiar environment will trigger memories of the past.
Hi, so like so many others my boyfriend just broke up with me 3 days ago. My mind is definetly in the overreacting stage. We'd been going out for 8 months and honestly it was fantastic, I've never felt like somebody loved me as much as he did. I would wake up to "good morning, just a quick reminder that I love you" texts every now and then, and we never really left the honeymoon phase. So 4 weeks ago I went on holiday and he called me saying he missed me and when I got back he seemed very genuine in the missing me and loving me. Last time I saw him 2 weeks ago everything was as normal, very loving to each other, but just kinda curled up on the couch because I had some period pain. I apologised for not really doing anything with him that day and he said "I just feel weightless holding you and being with you, don't worry." The next week he began phasing me out over text (usually we would message everyday) until a week ago he shut me out completely saying he had family and work issues. I finally break his silence and he comes over and breaks up with me. He told me that it had been on his mind constantly for the past 2 weeks and everyone said noticed the anxiety change in him. He said he couldn't sleep because he didn't know what to do. When I asked why he said it was just all in his head and he couldn't get it out. He said that it was him and not me and thanked me for being the best girlfriend he's ever had... all the time he seemed emotionless and hugged me loosely. I was/am devestated, from my point of view nothing happened or changed and he was extremely out of character. Even his friends and family messaged me after saying how shocked they were and asking how I was. Of course I want him to come back and say it was a mistake but I don't know if he will. I havnt contacted him since but his best friend wants to meet me for coffee next week... so do I meet her and break the no contact rule? Also is there a point? I don't want to try for something that clearly won't happen. I just need some outsider advice :(
It's likely that her current date is a rebound, since she jumped into the relationship soon after the breakup. For the time being, give her some space to at least let go of the negative emotions she may have towards you after everything that has happened. Also spend this time working on figuring out what went wrong and make positive changes in those areas to at least appear more desirable to your ex and less of the person she was hurt by.
It is not advisable to think brash decisions when one is in love. You need to take your time, evaluate and consider all options. It is only after you have done this that you can decide to go back to your ex. Do not take any step without thinking about what happened. Evaluate what led to the breakup, think about how it happened and think about what you can do to rectify the situation.
I just wanted to say thank you soooo much for the time that a man of Allah proffsaha took with me in helping me to get my ex boyfriend back. Through it all, you were there for me and helped me to get him back. Allah has truly blessed you with a very special gift. Never give up and always continue to follow Allah's light as you have been and things will continue to look up for you. I have been blessed and I am grateful that Allah put you in my path. If you're in such a situation contact him on this number 00733947689
It was then that I started NC (I had to tell him what I was going to do because we call and text so often). I'm hoping that this will work because I do want him back, but he seemed very unhappy (and slightly angry) when I told him that his actions are confusing me but he cannot make a decision on which girl to go for. And honestly, I was hoping during this NC, he will learn how to live without me (and vice versa). However, this situation is different as he has another girl to console him. Will this still work out happily for me?
God bless Dr Odaro for his marvelous work in my life, I was diagnosed of HERPES since 2010 and I was taking my medications, I wasn't satisfied i needed to get the HERPES out of my system, I searched about some possible cure for HERPES i saw a comment about Dr. Odaro , how he cured HERPES with his herbal medicine, I contacted him at his email ([email protected]) and he guided me. I asked for solutions, he started the remedy for my health, he sent me the medicine through UPS SPEED POST. I took the medicine as prescribed by him and 8 days later i was cured from HERPES, or email him. ([email protected]). Dr Odaro ONCE AGAIN THANK YOU SIR. DR Odaro ALSO HAS THE CURE TO THE FOLLOWING VIRUS.
It may sound like common sense but you'd be surprised to know that many people hope to get back with someone they deeply care for, but do nothing to change some of their negative habits or behaviors. Most of the time there are no magic tricks or quick fixes that can bring back the one you love into your life if you haven't sorted out some of the negative behaviors from your previous relationship.
All of the crying, Instagram stalking, begging, analyzing, gossiping, playing detective, pleading and bargaining will get you nowhere and the pity and empathy that you are after will never happen. It turns men off, WAAYYYY off to know that you have such little confidence and such a minuscule life that you're obsessed with their every move and obsessed with losing them. Men want to feel wanted, not psychotically needed. Beating yourself up is not going to help you either. Are you listening? Either make the mistakes that I've made in the past or wake the hell up and give this emotionally unavailable f*cktard a run for his money.
6. Wait, don't carried away quite yet! Remind yourself of why things didn't work out the first time around and look for clues to whether things would be any different now. If you broke up because he partied too hard, for instance, notice how much he drinks or how he talks about his nightlife. It would suck to get back together only to discover that the same problems are still haunting you. So take it slow and trust your gut.
"Help! How can I get back my ex!" is the distressed plea of many of my clients when they contact me to launch therapy. After years of gradual relationship deterioration, failing communication in a relationship, and off-putting interactions, at least in the eyes of their partner, some final-straw development suddenly propelled their partner to insist that they separate.
Before we broke up we had talked about our relationship long-term and we both had the same hopes. Everyone saw our relationship as the real deal, and he even said it too. He said he just needs time to focus on himself, which I understand and that he still doesn't know what he wants. I am hoping that in the next few weeks we are both able to get our heads clearer and he is truly able to think about getting back together while I am focusing on myself. However, I am just not sure if the situation is going to change at all and I don't know what else I can do.
"Retrosexual romances" seem to be the hottest hook-up trend out there — courtesy of Facebook and other social networking sites that make it super-easy to reconnect with an old flame. But should you? Diana Kirschner, PhD, author of Love in 90 Days: The Essential Guide to Finding Your Own True Love, shares the deets on whether to dig back into the past, and, if you do, how to work a happy — and sexy — reunion.
Signs You Should Get Back With Your Ex Boyfriend
Today I asked if I could call him to ask him about a few things I know he knows much about and likes. . He said yes and I called. He was a bit on edge at first but then we talked like we did before breakup and he was talking about some improvements he had done in his apartment and that he's waiting to get accepted to school etc. it was a nice talk, after a while asked him if I could come over some day to pick up my last stuff at his apartment and that's when it escalated. He got upset, wondering why I hadn't said something about those stuff before and why I was asking for them now and if I wanted my things I could pick them up outside his door when he's not at home. I tried to calm him down, and we agreed that he would contact me when I could come and get the things. The call didn't end... well according to plan. What should I do? I have also asked him twice before in texts if we could catch up for a coffee at some point,: He has been positive and said "well I'm busy today but maybe another day" or "I'm busy right now but another time? let's talk about later."
Different people may go through different phases in a relationship, especially when it goes from a close relationship to a long distance one. Often times, one party may start to lose interest due to the lack of physical contact and develops an interest in someone else. Right now, as much as it sucks to hear, you don't have much of an option except to pick yourself up and walk away from this (for the time being), until the two of you are no longer so far apart or reach a more stable phase in your lives where LDR doesn't become as tough because both parties are no longer in the exploration phase.
"Typically, when a relationship ends, there may be pain, sadness, or negative feelings on one side or both," says Dr. Amie Harwick, MFT, a licensed marriage and family therapist in West Hollywood. "When considering getting back with an ex, one must consider if they can work through the differences." And while we can't directly tell you which are good reasons to get back together with an ex, it's a smart idea to consider why you got together with this person in the first place. Are those the reasons you want them back? Do they outweigh the reasons why you broke up? Then there may be reasons to proceed.
He ultimately took two weeks, and over the course of a few days worked up the courage to tell me that he wanted to focus on his career for the next few years and did not have that special feeling to invest more time in a serious relationship. I was blindsided at the time because I felt like he had put so much effort in to courting me, but tried to be mature. I told him that I think he misunderstood what I was asking for and wanting to figure out with him and that I didnt feel he was open enough during out time together to experience something very special...but if ultimately that is how he feels then I respect his decision. I said I would really miss him but I enjoyed the time we spent together very much and I would eventually wish him all the best. I also mentioned I would be deleting his number for my own sanity. He never responded and I have not heard from him since.
If you see that there is a chance of you getting back together, take things easy. Do not rush him else you risk putting him off. It's best to leave him desiring you more and more. Withhold a little from him every time. After about 4 to 5 meetings and he hasn't said anything. You can apologize to him for the bad things you said or did during your breakup. You can tell him that you love him and you want him back.
He was my bestfriend for a while and then we found out that we actually love each other so we dated for a few months and then he told me that we should go back to being bestfriends to protect what we have because we can never be together or get married due to our religious beliefs.. when we started doing that he was already talking to another girl who follows the same religion as him and i got jealous and got into many fights with him about that .. that lasted for about 2 months and then he got sick from my craziness and told me that we should be just regular friends not even bestfriends and we shouldn't text everyday or call each other unless there is something important.. that was about a month ago .. i begged him to become bestfriends again i talked alot and tried everything i could do but it was no use .. yesterday i talked to him about it again and he told me that being just friends is his final decision ans he won't change his mind and i should act that way and just let it flow .. i hate the fact that he's in control and that it was his decision to be just regular friends. Moreover, he and that other girl became really close I'm not sure if they are dating or not but i know that they talk and hang out alot .. we go to the same college so i see them together alot .. whenever he sees me he acts normal as regular friends .. what should i do to go back into being bestfriends again ? What should i do to win him back after he said that he already moved on? I'm not sure if the other girl is a rebound or everything between them is real also.

Why is this the easiest? Well it doesn't have as many core problems as other circumstances, like for instance getting a girl back from another guy. That's harder. You only broke up due to distance, meaning that the attraction she feels for you is still present. In fact it might even have increased, since women get off on desiring what they can't have (you). Even if it seems impossible, it can be done.
The no contact rule isn't foolproof… it's just human psychology. It drives some people crazy and they have to find out why you stopped contacting them. It works most of the time, but some people only want their ego stroked. They might not necessarily be interested in you, it could be that they're just feeding their insecurities. If you want your ex to fall in love with you again, it's really worth checking out Kevin's Kurgansky's method. I'm not sure if links are allowed on here (Mods delete if not) but you can find his guide at: ExBackGuide.info
You should perhaps consider the fact that when chasing other women for the first time, we tend to put in a lot more effort than in a relationship that has been ongoing for 20 years. You should think about why she lost the spark for you and whether its something you've stopped doing or efforts you've stopped showing towards her after being together for so long.
How to get an ex back through reverse psychology? Well you can start by engaging in their game of bluff! I hear people tell me the following all the time: "my ex says they don't love me anymore"; or "My ex boyfriend said that he still has feelings but that it's probably best that we stop seeing each other"; or "My ex girlfriend says that all she wants is for me to find someone else and to be happy"!
Start fresh. Don't think of this as Part Two of your relationship saga -- think of it as two people starting completely over while being better equipped to deal with any challenges that come their way. Though you can't completely forget the past, there's no need to dwell on it or rehash it. Of course, if any fond memory of the past comes up, you should talk about it, but think of everything as starting anew.
Assure her that you both can fix the issues that led to your breakup. Remember why you guys broke up in the first place, so you can learn from your own mistakes. Have a plan ready, and discuss that plan with her. It's no use in getting back together if you go through the same issues all over again. If you didn't listen to her feelings enough, be sure that you're listening when you tell her you like her. If you didn't get along with her friends, make an extra effort to get along with them. Have a plan to attack what's likely to go wrong, and you'll impress the socks off of her.

To think you can "make" someone want to be with you is illusory and will only lead to suffering and disappointment. The most important tip here is to be fully in the moment and truly OK with whatever the outcome is.  Let me reiterate that. Being OK no matter the outcome is the single most beneficial advice I can offer. Fixating on your ex, secretly wishing that he comes back to you, or worrying that you won't be able to win him over will not be beneficial to you in the long run.
How To Get Ex Boyfriend Back Fast