In your case, keep NC shorter than 30 days - usually, around 2 weeks would be enough. Reach out but perhaps you might want to consider all the angles first before deciding whether to tell him or not about your addiction. Some people might take it the wrong way and instead of even feeling pity, it pushes them further away because technically, you weren't being honest throughout the relationship. It might be better to come across and tell him that you've changed and leave it at that unless you know for certain that he would be understanding towards your situation.
Hi my boyfriend and I broke up 3 weeks ago, for the first 2 weeks he reached out to me a few times all positive and I replied. But i spoke to him on the phone 1 week ago, in which I cried and told him how i felt and that I wanted to be with him and could make it work. He said there was nothing I could do to change his mind, he still cared for me, but didnt see a future with me, and we didn't have enough of an emotional connection for him. I haven't spoken to him since, I am worried as he doesnt have any social media he wont be able to see what I am up to and I don't think he will reach out again to me. Im not sure what the best plan going forward is
So I'd like to preface this by saying I'm a woman and my ex-fiancée is a woman as well. I do find most of this page to apply, but it is challenging having two women with all of that emotion and overthinking. I've finished with the no contact period after my ex broke up with me, and contacted her with my "elephant in the room" message. I know she's in the "missing phase" from texts she's sent me, and thought it was the perfect time to send it. I am in a good place and am feeling more positive every day. I was prepared for the possibility of her responding, and how to close the conversation before giving her a few days of digestion. However, I was not prepared for her response. My message included: an apology for my behavior after the breakup, that I accepted the breakup and think it was for the best, and my positive change. Her response was "I'm glad you're doing well. I'm not." I'm thrown off by this, because I'm almost worried that she's under the impression I'm moving on (although I never said anything of the sort), and she seems almost upset at my message. I'm unsure on how to respond to this- hoping you can offer me some advice. I could be totally overthinking this, but we were together for five years and I know her very well and can decipher texts. But now that we're broken up, I could just be analyzing too much. Please help! I really don't want to screw this up :)
Best Songs To Get Ex Back
I guess I made the mistake of... i dont even know..... getting TOO comfortable? I mean I got to the point where I was literally being affectionate with her all the time like a boyfriend. Hand on the lap, pecks, hugs, and she didn't respond in a negative way, dont get me wrong. The problem was, as it was before (when we broke up) that she has a lot on her plate. And I mean a lot, financially struggling, an exhausting job (night shift mind you), she finally moved out on her own which caused an even bigger strain financially, her family lives in another country, and she is currently searching for a second job. So naturally, being affectionate, or reciprocating affection is the last thing on her mind.
Many relationships go through a loss of attraction after being together for some time. You have to figure out and comprehend the reasoning behind this loss of attraction, and whether there are ways you can go about turning it around to re-ignite the flame he once had for you. 30 days should be enough considering that the relationship didn't end on a terrible note. 

Hi me and my bf broke up 3weeks ago and before the 3weeks at work I ws ignoring him bt he doesn't want me to do that he keeps on sneaking up on me everywhere I am and he keeps on coming to me and kisses me for two weeks the 3week Monday we had sex and he told me he still loves me and kisses me and waiting for me outside the shop to walk together but he's in a relationship with a married woman straight after we broke up bt he keeps on kissing me and stuff but he broke up but I want him back and I know he wants it to but I can see something is not right there becoz it's his mother's friend and she is 10years older than him he feels the same wY As i feel about him anyone who can help me please
a. Learning from the affair: Peter wrote out the series of misteps that he had allowed himself to take down the road to sexual betrayal. He listed what had motivated each step — and also what would have been far better options for responding to his concerns at each point in the pathway. He identified the specific situational, thoughts and feeling cues that triggered each step, and the alternative action he would take in the future in response to each cue.
For years Peter had reacted to Paulette's complaints about him with defensiveness. When he did allow himself to hear information about what he was doing that troubled his wife, he'd get mad at himself.  Listening to her had escalated his agitation and distress instead of leading to learning. Now Peter decided he'd better address her concerns, beginning by writing out a list of all he could recall. "Information is power," he reminded himself to ease the sting of shame and guilt. 
Hi. We broke up with my girl friend 1 and a half months ago. Since then I did no contact and then sent her a letter suggesting that I support her decision and all that. After a month and a week I went to her country for a surprise visit she was shocked but at the same time flattered. I kept it really cool, told her that I am not there to ask her to come back. Then we started talking and everything and after few hours we started hugging holding hands kissing. Two days went by like this. It was perfect. After I came back we kept in touch and decided to move slowly. Now we talk everyday again. However she said she had to tell me about this guy she went on a date with. Nothing happened but they did keep in touch. She told me she liked him in the beginning but now she knows it was because she was scared to be alone. But then the next day I opened the subject again and she revealed more about the situation. That they made plans to meet and stuff. And now she says she wont be sure until she sees him again and decides that she actually has nothing for him. I kept it cool again and said it is better if we stop talking for a while because I wanted both of us to have time to think but she insisted we keep talking. We changed subject afterwards and everything was great. She was talking about going on to a date and at one point she mistakenly called me her boyfriend which we joked about. Right now it is going good. But I dont want her to get confused because of this guy. What is the best course I can follow? I really need help on this. Thank you.
Oddly enough, many of my clients were successful in re-establishing contact with their ex boyfriends by simply not even trying.  They didn't do anything except move forward with their lives, focusing on bettering themselves personally and professionally.  In a way, it is a form of what I call Passive No Contact or Passive Radio Silence.  It works for some people.  They figure that if their boyfriend dropped them, then so be it and instead of becoming dependent and addicted to their ex boyfriend, they choose to embrace other things in their life, doing those things they want to do and accomplish. Then as they focus on those things and have success, often times their ex boyfriends show up realizing they made a huge mistake letting their girlfriend go.
1. Before contacting your ex, ask yourself two key questions. First, do you truly harbor feelings for him — or are you possibly just bored or sick of being single? Don't go there unless you're positive you're still into him. Second, was your past relationship with him healthy? It's much easier to recall all the great things about a guy than to bring to mind the bad stuff, like how you fought all the time or how unmotivated he was. Make an honest assessment of your past bond to avoid falling back into a negative situation.
Get Ex Back Veronica Isles
My boyfriend and i have been together for 1 year and 1 month. He goes to a different school and he starts talking to this new girl. Just days before, he kept on reassuring me that he wanted to be forever and he is not going to leave me for anybody else. So i thought that he meant it. I feel like he really does love me deep down inside but he just doesn't want to say anything. I love him with all of my heart and he cheated on me and then i begged him to get back with me. I know that that is backwards because usually when someone cheats, they want to get back with their spouse. but he didnt want to. After we had the fight about cheating, we started to talk. So i started to google signs that your ex wants you back. He would tell me their status, he said that they are not dating but they are talking but on all of her instagram pics, she now tags him. I said that i love him and he said that he loves me too. He then blocked me on instagram and snapchat and if i text him he will leave me on read. I know that i deserve better but i love him and i am in love with him. What do i do?
Sometime it happens when cutting off all connection with him is just not possible for example if you both work together or you take same classes or on the vacation trip with your mutual friends. In this situation don't get angry and never try to avoid him. If you get angry then your ex boyfriend may feel you can't able to remove him from your heart and you wanted to get him back. On other hand, if you completely avoid him then he may feel you are immature and can't able to live without him. 

How To Get My Ex Boyfriend Back When He's Ignoring Me



If you feel that he is unable to give you the attention you need, perhaps it would be better to focus on moving on as he may not be right for you. However, if this is a temporary phase and you think that it would get better, then maybe giving both parties a break right now by doing no contact would be good since it allows for some breathing room and for him to focus on what he needs to do right now, while you figure out whether his lack of attention towards you is something you're able to accept.
On Monday, I brought up the other girls name and it ended up in a big argument. I have major trust issues now after what has happened but he doesn't understand! The same girl is working with him AGAIN. He has since called it off with me and has started messaging her again. He says I have pushed him too far this time and I am stressing him out with mentioning things that have happened. That I ruin everything and there is no going back.
How To Get Ex Back After No Contact
You have spent a month not contacting your ex. You spent that entire time working on yourself becoming more and more confident as the days past. Everything seemed to be going fine until you hit your first road block with a negative response. Make no mistake about it, negative responses are never good. However, they don't EVER mean that you should give up right away. It just means you have to be smarter about how you approach things. Lets take a look at a negative response example (from my past) this is a true story.
Followed all the no contact advice and the texting advice. With the help of some friends things have been going extremely well over the past week, lots of heart to heart conversations about what went wrong and how we could've done it better/differently. Things were also moving very quickly. Too quickly. We hung out every day this past week, had friends meeting eachother, and were kissing at the end of our talks.
Get Ex Back Text
I want my girlfriend back beautiful message girl in Merimbula and cute and funny and guy make smile and laugh and better things to say that I love you Ada Baker biggest love heart hot and sexy girlfriend and her beautiful person my brother and Trisha getting in Engaged wedding on 14th April next year church so I love my girlfriend so i gotta love to her help me with any of the world very much
How To Get Revenge On Your Ex Boyfriend
I'm so happy i got my ex back, he is the one Priest Okijaike, he brings healing to broken relationships, fertility issues, joblessness, ADHD in children and adults. I got his contact on a blog and i decided to contact him after getting his contact from a lady who confirmed that Priest Okijaike solution temple healed her broken marriage. I have to share his contact here for all who are looking for a genuine and powerful healer because i have confirmed him my self. contact his email:[email protected] Its also confirmed by others that he heals their diseases, so many testimonies and more shocking ones. Things will change for good in just 6 days once he starts his prayers for you.
We've been together for 4 years and then he purposed me. So we've in this relationship for 5 years, and were engaged. Im 28 and he is 30. I live at my mothers house and he lives with his. It was right after my father has passed away. He went to ask my father for my hand, actually. It feels like he really did love me, and tried his best. But I was to stubborn, critical and basically was pretty depressed with my whole life. We started to look for places to get married and planning the wedding, but it was too hard cuz we were not financially stable... Eventually we gave up and stopped looking for places for the wedding and doing the planning because 2 of us were too busy. I was really struggling having my life crisises, and he tried to support me, but we were always fighting. It led to many frustrations, lots of argues and comunication problems. After I started a new job I had no time to go sleep over at his place, and my cat was pregnant. I had no time for anything and was in a huge stress and depression. We became pretty distant and barely met. He tried to support me as much as he could, but I was very frustrated all the time, and we fought.
And you always want what you think is good for you. So how can you make yourself better? You can start from appearance (new haircut, new clothes, get some muscles, eat healthier, etc) and a good attitude/be open-minded. Join meditation/yoga/learn new things. Upgrade yourself with your outer appearance and inner attitude. Be the best version of yourself.
Can You Get Ex Back Quiz
If at least the one who committed a totally out of bounds act does a thorough rethinking and relearning the result the result can be betterment and continuation of the marriage, provided s/he becomes totally clear that s/he will not repeat the behavior. If not, the marriage is in big trouble. At the same time, odds for successful resumption of a better marriage zoom up if both partners engage in learning.
Talk to his friends. If you have mutual friends or if his friends would be willing to talk to you without telling your ex about it, consider asking them what they think the chances are that your ex would want to get back together with you. They are more likely than you to know if he has a new girlfriend or if he's dying to get back together with you.[5]
Hello, My GF of 3 months just broke up with me. We really liked each other, but I made a mistake of kissing another girl 2 weeks into college. She's back home and I think she just started seeing someone. I really like this girl is there any way I could potentially get back with her? I'm assuming she has lost all trust in me and since I'm miles away at college that she will easily forget about me, but I don't really know.
Your main goal in this section is to just open up communication. Remember though, you want to be in control at all times. That means that YOU have to be the one to end the conversation. To make matters more complicated you can't get into a full blown conversation with him yet. This is simply a small baby step that you are using to test the waters and gauge where you are at.
If he has met a rebound, he would care less instead about you coming to pick your things, but the fact that he reacted this way means there's a hint of feelings remaining (whether it's positive or negative is yet to be determined) and does not seem ready to face you yet. Perhaps continue to keep things on a casual note, and subsequently first address the relationship and why it failed before proceeding with collecting your stuff or meeting him.
Mindy eventually started no contact and decided to heal. Before contacting him again, we made sure that she has the right mindset about this. That she wants him back but does not need him. That if they get back together, it will be a new relationship and they will have to take things slow from the beginning. That he needed to be a different person as well if they wanted to make it work.
It's been a year and a half. He sent me a linked in request. We didn't fight. He was perfect web we were together but life has thrown me since rough punches and I felt like I wasn't on equal ground with him. He has money and prestige. I had lost everything taking care of my husband's yet terminal illness and I was sick myself. I felt I had nothing to offer. Now I have a great career and new car and my home is being remodeled and my last child is in college ave I have my health back. I broke his heart. He just wanted to help me and I felt like charity. I would really like to try again.
So when I hear someone tell me I want my ex back, I always ask them if they are prepared to change or to evolve in positive sense to make their ex want to be with them again. If you are ready to step out of your comfort zone and in certain instances re-visit some of preconceived notions or beliefs that you may hold about you and your ex than anything is possible!
You romanced her once already, but that doesn't mean you get to go from zero to 60 without even getting behind the wheel. So propose getting together—not moving in together. Says Seattle-resident Adria, who took her ex back after a nasty breakup: "He apologized out of the blue after three months of no contact and was very respectful of me. He wasn't pushy about getting back together, which would have been a red flag in my eyes."
Hi me and my broke up 3 days ago and we been together for 1 year and it was my fault cause I kept getting mad. He told me his going to his friends house because we both woke up early to go to boxing class. And I told him we can go to his house instead and rest. But he didn't want to and I kept getting mad and said no your staying here and he still left and went inside and I kept knocking trying to tell him to come here when he did he said he was breaking up with me and I slapped him because I was mad. We're still talking and we hang out still but he doesn't want to be with again but he told me he still loves me. I'm not ready for us to be over even his mom told me not to give up. I just need help getting him back because I love him. Any advice on what I should do. Because I'm no n US. I just need help
You're probably going to have to give it a little more time, before trying to contact him again for an answer if not he may think of you as too desperate. Often though, a guy wouldn't really 'think' about it, but instead shut off from the negative thoughts and distract themselves with other things so you'll probably still have to check in eventually. You're also going to have to understand what made him suddenly feel this way (that you're both not going to work out), and if it was something that happened overnight or were there underlying feelings of unhappiness on his end that led him to build his thoughts in this manner.
But sometimes filling your life with positive things is not enough. In fact, having a good vibe isn't really about having the things you love around you or trying to imprint the idea that you feel good into your mind. It's more about removing the self-destructive, negative thinking (and the behavior that the negative thinking creates) – i.e. changing the lens that you see the world yourself and your situations through.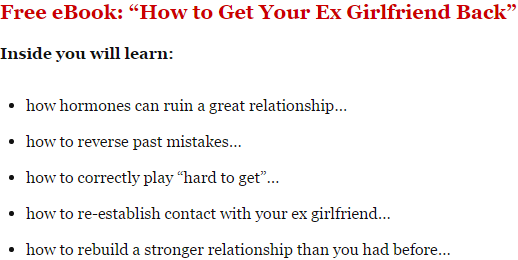 Every relationship is a power struggle. It may not sound very good to hear and you may not agree but that's how I see it. You can believe in love, compassion and valuing your partner and still understand that at some point it becomes a power struggle between you and the person you love; in order to live out a type of relationship that mirrors who you are and your values. 

How To Get Ex Back In Sims 3



We always fear the thought of not being able to find someone better if we walk away from our current relationship, but the truth was he still went out with another female behind your back, and I'm sure it would be simple enough to find someone who at least won't do that to you to begin with. However, this is also dependent on whether she was actually a friend or not, and why he decided to go behind your back to meet her.
The relationship is going really well in the beginning. You are seeing each other often and enjoy one another. You begin to prioritize him over other things going on in your life, like hobbies or nights out with friends. You tell yourself you are comfortable and don't need to be "out there." Everything is just the way you like it until… for some reason, you feel him pulling away.
a. Learning from the affair: Peter wrote out the series of misteps that he had allowed himself to take down the road to sexual betrayal. He listed what had motivated each step — and also what would have been far better options for responding to his concerns at each point in the pathway. He identified the specific situational, thoughts and feeling cues that triggered each step, and the alternative action he would take in the future in response to each cue.
There are many, many reasons why someone may choose to explore a reconciliation with their ex. But a lot of the time, those reasons aren't exactly good. "People often want to get an ex back because they think it will heal the pain they feel in the immediate moment," says Brandy Engler, psychologist and author of The Men On My Couch. "If they were rejected or broken up with, it can be a strong impulse to want that person to accept you in order to heal the wound of rejection." And that, of course, isn't a good reason to get back together.
How to get an ex back through reverse psychology? Well you can start by engaging in their game of bluff! I hear people tell me the following all the time: "my ex says they don't love me anymore"; or "My ex boyfriend said that he still has feelings but that it's probably best that we stop seeing each other"; or "My ex girlfriend says that all she wants is for me to find someone else and to be happy"!
Great job for stopping smoking. But remember, you really did it for yourself. That choice is yours for "you" and it will have positive implications for your entire life. Just go it slow. Relationships that have been injured need to be nursed back to health slowly. Look to my website Home page for resources, tools, and my eBooks to help you with the entire relationship recovery process.
For the past five months I have been rebuilding attraction. Very successfully, I might add. It's been taking longer than expected, but the results have been good. We are at the point, or we WERE at the point (more on that in a bit) where we would be free for each other at any given time. We were texting and talking on the phone every single day, and seeing each other at least once a week. I had finally broken past the barrier where I can be as affectionate as I like, including little random pecks on the lips, and cuddling on the couch making out here and there during movies. We had sex for the first time again. It was great, and she responded well.
Get Your Ex Back In A Long Distance Relationship
He says that he was not comfortable being at his trueself with me. we were in a relationship for 3 years and now he says this.He's way too inconsistent about his thoughts and gives a list of reasons for the break up and he wants to be only FRIEDS with me at least for a while. it's been almost 4 months since we broke up, I've been pleading him all this while and today I decided to Start No Contact period for at least 2 - 3 months until December. Kindly help me in getting him back. I'm very much serious about this guy.Also please Suggest me if i'm doing it right.
My ex and I broke up a few months ago, I cheated on him, he pretended to forgive me and then he moved on to someone else and then I went through all stages of crazy. Begged him to take me back, spoke to the new girl and told her all the reasons he wasn't right for her and then he decided to break up with me for real. Claimed what he had with her was ephemeral but I ruined his reputation when I spoke to her. I tried the no contact, did it for 9 days, then I panicked and begged him to take me back, of course he said no, there's someone else. Then after that time, we met up a few times and had sexually related stuffs…no penetrative sex. Then I decided to restart the no contact. Intend to start tomorrow, unfortunately we are classmates. Yesterday I tried to get him jealous by telling him I met a more handsome guy. He told me many reasons why this guy isn't right for me. Anyways I am scared that if we continue this way, I'm going to be friend zoned so much that we won't have any chances again. I don't want to block him over whatsapp because then he will probably block me too and feel I've moved on with this other guy. But it's quite difficult doing no contact when he is constantly trying to communicate and also, I'm from Nigeria. Virginity means alot to guys here. He was my first and unfortunately the new girl he's with now is also a virgin and very hot
He told his best friend's girlfriend i smothered him which I was never home I worked, ran errands alone watched t.v alone at times and hung out with friend's. He told his sister we bickered and that's why…now I know I need to step away from his family, but I was told by his sister he is content, he misses me and is sad ,but he is OK with being alone. He just doesn't want to be responsible for someone else right now…he told his sister not to tell him if I find anyone and he "says" he doesn't want to date anyone for a while…all he has is his sister really his dad really just works and stays in his room.
I was clingy, had low self esteem, needy and jealous. The break up was shocking, he took a week and a half to tell me if he wanted space or if he wanted a break up. He was chatting with an 18 year old. He was telling me he doesn't love me anymore and when he hug me he said he wish he could feel by there is nothing, he withdrew from me emotionally 2 months before we broke up. When I was packing his stuff I found something he wrote that he didn't find me attractive. After the break up I was trying to convince him and did testing terrorism until he said to text him only when it's business related. So did one week no contact and called to talk to him about the outstanding bill I was still upset and sent a text to apologize. He called next day and he was upset and sent a text apologizing. I did 2 weeks no contact and called yesterday since he been telling ppl that I wasn't paying him attention and also thinks I do by love him. So I called and ask if we can meet weekend to talk and he said yes. He still have stuff at my place and he coming to pick some up. Today I went to his work to get my keys from him because he still had my keys. He couldn't look at me but did when he hand me my keys, I was acting happy. He said so whenever I needn't get something from the house inbred to contact you and I replied yes I am paying the rent and so I went and havnt made contact however he said he will come weekend. My ex came over for some of his stuff was amazed how the house looked, I did some rearranging. He said twice that the house looks nice and that I looked happy and then stated that he was probably the one holding me back. He said this about 2 times, the second time he said it I ask why he is saying something like that and he said he said he know perhaps he just feels guilty and so I told him that he wasn't holding me back and then he notice I had a mini burn on my hand and ask me what happened I told him I got burnt from the stove. And so ..
Definitely focus on improving yourself first before trying to win her back again. However, since you've been together only for a month there may be a possibility that she would move on so you'll have to prepare for that. Use this as a learning curve on where you're lacking and work on improving yourself, and if you want to win her back after, you should treat it as if you were chasing her for the first time.
I have to admit I have been doing all this ever since the last time u email me, not only you but my closest friends told me the same thing and I still didn't listen until yesterday I had a conversation with two people I trust the most and remember what he said and did and decided that that was it. Sadly I still see him at work but I will listen and follow everyone's advice. Finally!! ????????
Can My Ex Boyfriend Get Joint Custody
First and foremost, cut all contact with him and even block him on social media or messaging apps if necessary. If you want to regain your composure, the first thing you need to do is stay as far away from this toxic relationship and the cause of the toxicity in the first place. Its inevitable that we become less than who we usually are in toxic situations because of the constant negativity, and in order to regain control of yourself and your usual self, these are areas you should avoid coming in contact with.
This is probably the most comprehensive free road map on how to get back with an ex available on the internet today. Our goal is to provide you with a free resource that can enable you to know exactly what you need to do, no matter what situation you encounter; to prove to the person you love that you're the one that can make them happy in the long haul and to help them fulfill their dreams!
My partner and I have been together for 8 years and engaged for 9 months. We are both in our early 30's. For the month of April we have been arguing frequently, mainly because I wanted to finally move in together since we have been together for such a long time... everytime I would find an apt that was suitable for us, he would come up with an excuse. After a few weeks of searching, I finally found an apt that met all of his standards. On the following days, I took the opportunity to let him know how I was feeling due to the fact that we have been arguing about the moving in situation, and I was feeling some type of way, including feeling somewhat neglected etc. That same particular night, we got into another argument, this time was because he didn't want to stay over the night. I was so upset because I just expressed to him how I felt and i truly thought he understood my view. The very next day he came over my house to let me know that he needs space away from me to figure things out and to see whether we should stay together or not and says he no longer wants to move in with me. For the 1st 2 weeks I did the whole pleading and begging, then I stopped. It's been a month since we haven't seen each other;however, he still texts me and occasionally calls.. he still says that he loves me and that he misses me. Idk how to interpret his behavior.
We both met through gay dating app in Feb-2018 and loved each other for 3 months and both used to express our love indirectly where my boyfriend used to like me a lot and used to chat with me daily with lot of interest and enthusiasm and use to share his pics where he goes and use to say everything. And we celebrated the first two months anniversary too . In 4th month that is in May-2018 i expressed to him directly that i love him and he said i liked you as a friend and but i could sense at that time he likes me but not expressing. Slowly he lost interest in me and but used to chat with me daily.
What does it mean when….. I said I want things over as I don't think he's in right place for a relationship (and he agreed) and I explained I wasn't happy that things weren't progressing, not enough respect etc…..he came back asking if I'd met someone and if I change my mind to talk to him again; I replied that I am opening myself up to dating again as there's no real commitment with us; and that I think things would need to be different for me to explore more with him (as I don't want casual or to be a texting buddy)….he then said in a midnight text 'me too, about your honesty' (which confuses me?) and I haven't heard from him for over a week…and then not long after he accepted my long outstanding Facebook friend request (with friends/photos not accessible)……I don't know what to read from that? And I've not contacted further.
I quit the day he left me, and I haven't even felt the urge since. I want to get him back, and want to do it the right way, but I feel like I need to contact him and confess how bad things were for me, not for pity but just so he understands why I did some of the things I did, and doesn't think that "that was just the way i am". Now that I have 3+ weeks of sobriety under my belt, I am more sure than ever that he might be the one, and that things would have worked. Ive turned my life around and am on such a better path, but I can't get him out of my head. I also can't forgive myself for letting my addiction ruin such a perfect thing. I know that I could make him happy now.
After a healthy and happy relationship for 10 months, he told me his ex wife wants to get back with him. I asked where does this leave me within this equation, he wouldn't respond, So I asked him does he love me, he said no he does not love me and had never made empty promises nor used the word love! I broke it off and now it's been 7 weeks without contact! I was hoping he would realise my absence and hold onto the good memories we had together. Will he contact me as I am following the no contact rule as you advise

After my boyfriend of one year broke up with me, I could barely speak without crying. I felt blindsided and didn't know what to do. I didn't know if I could get him back and the anxiety was unbearable. I booked a call with Coach Lee, not knowing fully what to expect but knowing I needed somebody who had been there before. I wanted our relationship back and so I wanted to make sure I had all the guidance and resources possible to do that. Coach Lee was simply wonderful. His presence is calming and I could tell that he genuinely cared. The things that he suggested I do to get [my boyfriend] back seemed difficult, but Lee warned me that they might be. But I knew I wanted to get him back, so I followed the plan that Coach Lee laid out for me. Within the week, we were back together and we are so in love! I know that it doesn't always happen that quickly, but Coach Lee said he thought that, in my case, it could happen that soon - and it did! I'm so grateful and can say that if you have been broken up with and want to get that person back, Coach Lee is the best! I'll never forget how much he helped me! -Anna
Hey my name is julian and my gf in which i love very dearly i meessed things up very badly, where i had low key neglected her.her and i had been dating for 17 months. We broke up 3 weeks ago and i have been hella clingy. I would message her for over 2 weeks. Then i had talked to her and told her how i would do anything to fix it. She said there us probably a 1% chance of getting back togethershortly after that I was like ok i accepted it. We still follow each other on social media and its obvious she is posting more and more because we dont talk anymore. I am afraid i ruined things for sure. And i really want to get back together with her because i want to marry her.
So me and my ex were in a long distance relationship for 2 years. I was in my career and he was just finishing up school. We met in another state and have always been long distance. So when he graduated, im thinking that we would finally get to be together. Wrong, he broke up with me. His words were im not leaving you, im leaving the relationship. I still love you and still feel the same, I think that we need to just be friends" So basically needing time to get himself together, which I can respect. At first, I was pleading, then I told him I couldnt be friends. Then, I said yea im ok with being friends because there was so much going on in both of our lives that I feel like I wanted to still be apart of. So for about 5 days after that our only contact was words with friends (Scrabble). The game has ended and now we are officially in the no contact part. He still has our pics up on his page and last time we talked 2 weeks ago, we both said "I love you" before we got off the phone. I really believe we were the two right people at the wrong time. Its almost been a month and each week gets easier. He was my first love and my best friend. This article was nice, my only confusion is you said Id reach out to him after the no contact rule, but most advice Ive gotten is "He broke up with you, You should wait until he hits you up". Im new to all this heart break stuff. He was my first and Im still at the point where I want him to be my only one. Thank you!
Hi, my ex broke up with me a while ago. We went full no contact for about 8 weeks and then he finally texted me to catch up. We talked for about a month, hooked up a couple times, and he was treating/talking to me as if we were a couple. I want to get back together. So I've told him I still have feelings for him and eventually want to get back together. I know he still has feelings for me but he says he doesn't know what he wants (We're also doing long distance so this is a big reason of why he doesn't know). I told him a week ago I can't be just friends anymore so I went into no contact again. Was this the right move? I want him to realize he does want to get back together and be more that friends. Should I have just stayed friends and waited? Or was it smart to go no contact again!!
Get Ex Boyfriend Back From New Girlfriend
At the end of the day, the only thoughts and behavior you can truly change is your own, and at the very least during this time, that's what you should be focused on. The breakup happened for a reason, and it's usually never just one party's fault. Spend this time thinking about the issues that may have affected the relationship, and if there was anything you may have done specifically or whether it can be worked on or not. Also think about yourself if whether in the past 6 months, there were things that perhaps caused you to feel unhappy or anything less than your usual self, and see if you could do something about it now to turn those feelings around.
My ex started slowly reaching out to me after 3 months no contact. Maybe a message once every couple weeks. I played it cool & did everything I should do. The texts increased in frequency over the course of a month to the point where it was an everyday thing and they were going from casual texts to him implying he missed certain things about us. I did very well keeping my cool and maintaining a flirty fun persona while still having my own life and not eagerly texting back. At this point, I got a random feeling to check to see if he was online dating and when I looked I found that he had just signed up for a dating site. Instinct kicked in and instead of taking the time to assess about what it could mean and respond appropriately, I reacted. I texted him I miss him and lost all control. Ever since than he still initiates contact sometimes but only through Snapchat and it's very informal or sometimes he won't answer me and leaves me hanging. He never speaks of any memories or flirts anymore and now I am the one doing it. Everything flipped and I don't know what to do. I was so close to getting him to hang out and see me. I feel like he's no longer interested and since he is online dating I feel I have lost my chance. I really regret letting my panick ruin what could have been a reconciliation. It was stupid and careless. Idk what to do from here.
"I was absolutely crushed when my boyfriend broke up with me seemingly out of the blue. Beyond devastated. I read so many articles on how to get your ex back but they all seemed so stupid. Then I found you guys. I read what you wrote about the no contact rule, and also questions to ask before getting back together with an ex and my mind was blown. I followed your advice to a T and when I was feeling really strong, I contacted him. We ended up meeting for a drink and he said I seemed different, more relaxed and comfortable with myself. We didn't dive right back in, it was a slow process but it felt so different the second time. I didn't feel so needy and terrified of losing him and everything just felt different. Anyway, we've been going strong for two years now and are looking for a place to move into together and I owe it all to you!"
Spend time with good friends. One of the best ways to source yourself is to put yourself in the company of good friends. Good friends remind you of who you really are. They can give you a new perspective on things and can generally be fun to be around. Good friends serve as one of the best distractions as opposed to eating a bucket of ice cream and watching Netflix all alone because they can help to build you up in the meantime and leave you more empowered, stronger, and more in touch with who you are. It might be worth it to define who good friends are. Good friends are friends that help you choose the most useful and empowering interpretation of your situation. They don't look to blame or help you wallow in self-pity. They have compassion for you, yet believe that you are inherently fine. They remind you of how fun you are and how much life itself has to offer. Spending time with people like this will feed your soul. During this time take advantage of everything these wonderful people in your life have to offer. Plan a trip. See that show you all always wanted to see. Do all the things that make you feel alive and do it in good company.
4. Good response so far? Suggest a short, low-key meet-up, like going out for coffee. It's neutral, so you're not putting yourself on the line too much if the romantic interest isn't there on his part. Or, propose revisiting one of your old haunts, like the bar where you used to meet after work, or your favorite Thai restaurant from back in the day. Being in that familiar environment will trigger memories of the past.
To reply to Renne's comment, you should act happy. Not overly happy, as if you are just so glad that you are single but you should be the same vibrant girl that he fell in love with. He liked you from the beginning because you were happy and were out there living your life and doing you. So, be that same girl that is still out there living her life regardless of him. A man doesn't want your happiness to be based on him or what he does. He needs a girl that is going to be just fine with or without him. You should still be there to listen if he wants to talk but do not force him to talk about anything he doesn't want to. He's not trying to shut you out. He just needs space to get it figured out on his own. And being able to figure things out on his own is something that builds confidence in himself and will help him be ready for you sooner rather than later. So, give him space. Be happy regardless. And be there for him when/if he needs you… but no pressure.
The best way to optimize your chances of getting your ex bf back is to become Ungettable Girl.  You want to increase your value in his eyes and also make it difficult for him to reach you, talk to you, and see you.  This is just a small part of becoming the Ungettable Girl.  It's also about making yourself beautiful in his eyes from afar.  He can see you, but now it is at a distance (through Snap chat, Facebook, etc).   Slowly over time, your ex boyfriend will crave you and you will do things to ensure that he feels that craving every day by using little jealousy ploys and rumors and chance encounters.  Your ex boyfriend loves nothing more than a good chase – so give him one.
We went back to our place and he told me he wanted to break up with me for sure. I tried to reason with him again, to give me more time But he was sure, he had felt bad about changing his mind before apparently; after a couple hours of heated conversation, of me trying to convince him, he even told me he didn't love me anymore ( which I'm not sure about, was he saying that so that i let go?). I gave in and we took my flight ticket back home. We spent the day after together, it was awesome and incredibly sad. I didn't want to believe I was letting go of a life I wanted so much. He was so sad too, it felt like he was hurting a lot too.
So, my boyfriend broke up with me 3 weeks ago. Everything starts with this fight we have and then he starts to ignoring me. Of course I freak out and I tried to talk to him and bla bla bla but he didn't want to see me. And that's it. He gave me no explanation.. I've been in No Contact Rule since then but I'm really confused and sad about this. We had a great relationship and I really didn't want to give it up. What should I do?
I quit the day he left me, and I haven't even felt the urge since. I want to get him back, and want to do it the right way, but I feel like I need to contact him and confess how bad things were for me, not for pity but just so he understands why I did some of the things I did, and doesn't think that "that was just the way i am". Now that I have 3+ weeks of sobriety under my belt, I am more sure than ever that he might be the one, and that things would have worked. Ive turned my life around and am on such a better path, but I can't get him out of my head. I also can't forgive myself for letting my addiction ruin such a perfect thing. I know that I could make him happy now.
With hindsight, Peter could see that the unpleasant situation he found himself in every day at work had left him depressed in the evenings. His response to depression had been to sink increasingly into "poor me" ruminations. "How can they treat me so unfairly? Why can't my boss appreciate my talents?  I'm stuck in a job that's not my thing. I hate having a job that doesn't fit and a boss who's chronically negative."

I Would Do Anything To Get My Ex Boyfriend Back