My girlfriend of 7 years broke up with me recently. I found your website and read most of it and the links to the other pages. It seems to fit my situation pretty close. I like it! Yes, i want to get her back! She is fantastic! She's had several relationships before me, I had one before her. I thought i was a smart enough and a giving enough BF, I know now I wasn't. She started complaining about things 5 years ago, but she stuck around. She wasn't happy she said, miserable. I argued with her frequently, because I thought I was smarter. She had trust issues with me, that I never fully understood. I gave her endless love and affection as I defined them over the years, even as she was pulling away hoping that would help and it did I suppose since she stuck it out. We had LOTS OF FUN times...I suppose those 2 things are what kept us going. I never took it serious enough though, I know now...and did realize this over the years but other circumstances distracted me all the time. I wasn't wise enough to know better and did little to improve that during the entire relationship. I love her, very much ! I think she loves me..has never said she doesn't. We both have recognized and I believe, still do, a core connection to each other. A true love. She just couldn't take anymore BS I finally realized, she warned me several times it would come and after angry texts from her asking to be left alone, loving to smartass texts back from me (because I thought I knew everything) and emails from me, trying to explain what was right and wrong(because I thought I knew everything)....I finally took seriously she wanted to be left alone. I texted her a very sincere apology and have left her alone. Within her angry texts, were many 'open doors' I felt, still offering something if I would DO something or make an EFFORT. (Wish I would have saw your site sooner) I couldn't see past my emotions and didn't take those offers. Stupidity and lack of relationship experience I feel. Anyway, I like what your website is suggesting, it seems to fit so I'm going to DO something with it and make the EFFORT now. I hope its the DO and EFFORT she wanted. I am worried too as she is VERY SMART and relationship savy she will realize my plan, think it is too orchestrated and vanish forever. This is assuming she'll communicate with me. Thanks in advance if it works!
When he got back, I told him that I was going to stay the week at my parents house. That I wanted him to spend time at our apartment without me there. I could tell he was starting to feel terrible for how he was treating me. I was being incredibly patient and mature about the whole situation. That Friday night (4/20), I got back to our apartment to see him sitting on the couch. The look on his face said it all. He just couldn't find the love any more. He cares about me but he could not reciprocate the feelings that I had for him. We talked for an hour, I said everything that I wanted to say. That I love him very much but I understand that I cannot force him to feel a certain way. I asked him why he had been bottling up his feelings of being unappreciated or taken for granted. These were two things that I could help fix and I can't read minds. He said that he saw how busy I was this winter and didn't want to add to my plate. Hello.. it takes two to tango.
hi. i broke up with my ex girlfriend (2 weeks ago) for a second time after 7 months. We were together for 4 years now. In Oct last year, we broke up because of my mistake. i was rude to her when she did something i didn't like, and it took me 1 month to get her back. i followed radio silence technique and be very persistent to make a point to text her every 2-3 days. one thing that helped was back then, she was working in a new company and her boss was emotionally abusive. i had the opportunity to be there for her and promised her i will change (and she acknowledges that during this break up that i've changed 90%). the reason for the break up is 1) she wants to explore herself as she's only 25. we got together when she was 21. (i'm 30 right now). 2) she said she can't forget the past hurt that i've caused her. 3) she said i'm a great guy, she still love me and will miss me as we're part of each other already. 4) my dominant character has sort of overshadow her to be independent.
SIDE NOTE: You may feel as if I am really grilling your approach to relationships here, but as I said, there's a positive purpose to it. You need to see what went wrong first so that when you apply my how to win your ex back steps, you won't be sabotaging the effectiveness of those steps by behaving in the ways that got you dumped in the first place.
Sometimes absence makes the heart grow fonder—but other times, it causes that heart to seek out another man. Bottom line: Don't call first. "Try sending a sweet text, not one that will make her think you're looking for a booty call," says dating expert Julie Spira. "Think about something that you shared together that might warm her heart." Example: Was listening to the radio and heard that Coldplay song. Brought back memories of the concert together. Hope you're doing great. If she responds, she may be open to rekindling the spark. And if she responds with an "Ew, WTF," proceed to step two.
Then you cry, and maybe even look up to the sky, maybe even pray and think, 'Please… Just let me get back with my ex. I hope my ex is just making a mistake and he/she wasn't thinking it through. I know we are perfect for each other. I want to just call my ex up and say "I love you".' Then you look at your phone every half an hour, check your messenger, facebook, instagram, twitter, and heck… email inbox, to see if your ex would want to talk to you, all ready to get back together.
Switchword To Get Ex Back
Hi there. My boyfriend of two and a half years just broke up with me a week ago. He currently just left for college and since I'm one year younger I'm still home. We had been planning to stay together throughout college and there have been many talks about our goals for the future. We never fought, but always communicated. We were a real pure relationship and everyone around us could see we were meant to be. All the sudden he gets drunk at a party one night and breaks up with me over a phone call. I know your probably thinking it's because we wants his freedom in college and doesnt want to be tied down, but he isn't that kind of guy. He specifically told me that he has been depressed this pass week and doesn't think that his life will be happier or better without me, but he "has to do this." My bestfriend also told me he told her he won't fall in love again until he's 25. The reason why he claims to be doing this is because long distance is too hard for him if we dont have a future together. But, he has always seen a future and admitted that he is pushing me away right now. My bestfriend (who is also his best friend) thinks that he thinks he is saving me from eventual heartbreak in the future. I don't know how to get him to realize he's not thinking clearly, especially because he only thought about breaking up with me one day before he actually did it and said "he couldn't do it unless he was drunk." He also told me he loved me 45 minutes before he broke up with me and said how he couldn't wait for me to visit and how all his friends were going to love me. So honestly I think he is just getting scared about the future because he tends to do that. He has texted me to make sure I was okay and still wants to be in my life. How do I make him realize I'm the one again because up until the day he broke up with me he believed it? I dont know what to do.
I've finally decided to calm down and stop pushing and go no contact and try to attract him back... but what I don't understand is....if he does come back ... how do people get trust back after something like that? How do people forgive their best friend and greatest supporter for suddenly dumping them and refusing to say why, even when they saw that not being given a reason was killing them? How do I ever feel safe with him again after that? How do I ever get over the really mean things he started saying during our post breakups fights, like that he might never see me again, or that his job and hobbies are more important to him than me? Even if he was just being mean I'll always wonder if he meant it now. How do I ever feel safe with him again when he watched me have a breakdown over our breakup and wasn't there for me and was still mean?
I so wanna do this nc thing but when i do say 2 days, he will text me little questions like "do you remember where i put my …" And i have never never ignored him at all. Yes he has signs of a narcissist. And he comes from a broken family. We worked at the same place and thats hard for me. You know people would talk and all. I have been laughed at for being the provider. From money to time to chauffeuring him. And that hurts because i did all that in the name of love. But he didn't appreciate me. In fact he treats me like kids treating a mom. No calls the whole day, busy with everyone. Only finds me when he needs something. He cheats on me too.
He broke up with me first: he said that it was because he felt like we didn't have a future together, that it felt impossible that i learned the language ( which i was doing), that I was asking for too much of his time, that he didn't feel like he could do all the things he wanted with his friends. but I couldn't accept it, I wanted to fight for the love we had, so much, I negociated, I asked for more time, I begged, I told him that if he still loved me it would be worth it. after a day of speaking he said ok. A week after I asked him again ( because I was afraid and I had been walking on eggshells all week), he said that he still had that feeling that we wouldn't be together forever, but he told me he loved me and he really wanted to work for it, to work on it and make it work! ( i was so happy!)
I was devastated for a few days and cried and begged and pleaded but afterwards I realised it was a stupid idea. Then I started accepting the break but still had thoughts like 'maybe his depression affected his decision' or 'maybe when we meet, he'll rethink it.' He was academically smart but not emotionally smart and I was the other way. It took him a long time to figure out that he liked me too when we were best friends. I also realised it's a stupid idea to think that way because he made his intentions clear for now. I apologised for my actions after the breakup and told him that I'll try my best to be his best friend but...
We explained earlier how keeping your emotions in check is critical to making this period of no contact work. I know how easy it is to backslide and fall into our familiar patterns. This isn't just the case with relationships either. Just think about how it normally goes for you when you're starting anything new: a new low-carb diet, a new bedtime, mediation, a new workout routine, etc.
Hi Lauren... Please please help me My ex broke up with me three weeks ago. After the break up I begged him for two days. Then I did no contact for a week and tried to reconcile which lead to me begging again for two days when he said no. So now I have done a no contact for two weeks . He hasn't been in touch with me since. I am worried he may never get in touch again. It is a long distance relationship and difficult to go and see him anytime. Why did we break up? We argued about something...he ignored me for few days then when we spoke I basically shouted at him for ignoring me we then got into a massive row and said things back and forth which resulted in him saying 'I can't do this anymore it's over,' Lauren, we had broken up before and it took us six months to get back together because in that six months we were both going back and forth, when he was ignoring me I wasn't and when I was ignoring him he wasn't, we went back and forth like this for a while until eventually we both just kissed and made up and it was all good for a month until the next row. I feel that when we are together we never argue but when we talk on the phone we argue. I explained this to him, but he doesn't seem to listen or care about how good we are and does not wanna work on this relationship anymore. Please advise what I can do.... ...
I met a guy on a dating app and we hit it off right away, the first date we kissed and had a ton in common which is so rare for me. Things moved quickly from there and we were seeing eachother one a regular basis (2-3 times a week), texting daily and I stayed at his place every weekend. He planned great dates and would regularly follow up to make plans. Although on one hand I started to really fall for him, I did have some concerns about his communication. When I asked questions about his past, he was very vague about his previous relationships and closed off to discussing them. He also seemed not very experienced with dating/sex which I didn't mind. He told me he had not had a girl friend in high school or university and had been single for 5 years (so most of his life he has been single). That is the most I got out of him.
Hi, my girlfriend of 3 months finally came over to my home to find out I live with my Mom. She never knew this before. She brought a bottle over, so she clearly wanted to finally have sex with me. We went to a restaurant instead because I told her my Mom is sick and I take care of her. At the restaurant, I was talking to her about log term commitment and marriage possibly. She was recently divorced with kids. I notice she never invites me to functions with her kids. We normally do stuff together with just the 2 of us. She is kind of defiant and rebellious just for the record. So, I get this text 3 days later after she comes over about wanting to break up with me because I want a long term relationship and she wants friends with benefits. I told her I was cool with friends w/ benefits too but she insists on the break up. She has a history of making excuses when she doesn't want to go to an event via text, so I don't know if the marriage questions caused the break up or was it really the mom situation/ her wanting sex. Your thoughts, what should I do to get her back??? How do I know if ever which it was?
Thank you Lauren. It's been 3 weeks now and I am pretty okay. Two questions though: 1. I wonder how did the story of the lady who wrote this apology letter, go? Did they get back together, or do you know about anybody else who have used this with success? 2. Do you cover somewhere if it's a good idea to stay friends with your ex? Thanks in advance.
Be sure to look great at all times. Don't leave the house looking like you feel. Ever, Get a new hairstyle, go buy a dress and prance all over town in that dress. I don't care if you go to the grocery store, get out and be seen looking better and happier than you have in years. Get your butt out of that funk you're in and remember: Anything that he can do, you can do better. Remember that. This f*cktard seems like he needs a wakeup call. How To Get Your Ex Boyfriend Back
my bf left me for another girl.he keeps telling me that i am nothing to him.he wants to b with the other girl.he has no feeling for me anymore.this has started more than one year ago.by this time he also speak to me but not on his own mood or to rebuild our relationship.he does so becz i request him to be with me at least for some hours or some minute… we talk only 2 or 3 days per a week…but I can't stay without him I want him back.plzz help me…if this is possible for me to get him back as my bf again??
Hi Lauren, i had recently bought the book men are from mars and women are from Venus, it has brought me to try and discover more wonderful information on your page. My boyfriend of three years had recently just left me about a month an a half ago, we had just moved in together and were only living at our apartment for 2 months before he decided to lay the break up on me. He says he needs to find himself and his happiness, this term is still so confusing for me when things for the past three years were going so well. and just 2 weeks before he broke up with me he had talked about marrying me wanting to spend the rest of his life with me. as soon as he left the apartment and packed his things he doesn't want to see me or doesn't really talk to me and whenever we do talk it always ends up in the both of breaking down crying because its so sad. he has told me that he still loves me deeply and cares about me but doesn't want to be in a relationship right now. I have no idea really what to take from all this, i know that i may have smothered him to much in the relationship but at the time i did not know what i had been doing i do know that i some how contributed to this traumatic event. but he is making it seem like its totally over and he is just cutting things cold turkey. i never seen this break up coming and he said to me that it just happened and he didn't even realize he was going to do it. after three years of being together hes acting as if he doesn't even know me. i just need some advice of insight on what might be happening to him or me right now for this to take place? ...
So he moved out of my flat but he left the majority of his stuff here at my apartment. I went on a trip and I asked him to take his stuff from my place for good, he had 7 days for that. When I arrived home, nothing happened, his stuff were still here. During my holiday I didn't contact him, when he messaged me, I didn't respond him. When I was traveling home he messaged me like "we need to talk." I didn't know what could happened, so I replied with a simple "about what?" when he told me he didn't have the emotional strength to take his stuff and he also was worried about me that if something terrible happened to me or what? So I replied to his messages focusing on the context like "I'm gonna pack your stuff alone" and then he asked me if I need help with it, I answered him with a simple "no". So did I violated the "no contact rule" here? Can we consider all this as "emergency"? and also do you think I made "one of the biggest mistakes" by being too cold or rude? Please help me, I don't want to drive him away, I don't know what to do. :(
Oxytocin Get Ex Back
Broke up with girlfriend after over 2 years together. We had some issues and had been to relate but finished counselling positively. Change of job had me move towns. She followed me 2 months later when she also had new job. My job fell apart and I had to quit just as she relocated. I then got work elsewhere on temporary basis but it went on for 9 weeks. We barely saw each other saw each other. I felt pulled work wise away from her and I allowed it to happen. We split. I was in denial for a month or so. When realisation hit I was heartbroken. I've tried emailing to say I want to get back together but she's said she's not in love with me and we have no future and that she wants space to heal.. I love her so much. I've written a heartfelt apology for hurting her but she won't respond. I just don't know what to do. I think she's built up her barriers and is determined to put me in a box and ignore me. What do I do? I'm so very sad, really love her and can see all the ways we could have a really good relationship but if are doesn't….
But sometimes filling your life with positive things is not enough. In fact, having a good vibe isn't really about having the things you love around you or trying to imprint the idea that you feel good into your mind. It's more about removing the self-destructive, negative thinking (and the behavior that the negative thinking creates) – i.e. changing the lens that you see the world yourself and your situations through.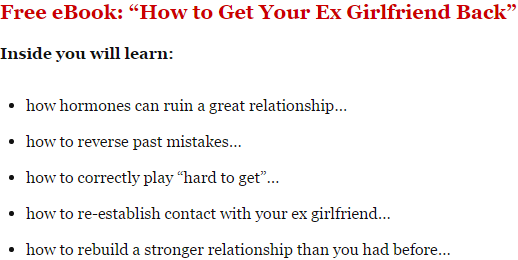 In the next few weeks, you need to have a new man interested in you. Find one or fabricate one, but by all means you have a new flame according to anyone that he may know. You don't need to announce it in smoke signals, but if you are asked, smile and discreetly say that yes, you are dating someone. It may sound nuts, but it does help you gain the piece of mind. If you're not ready to date and still missing him every second of every day, that's fine. I understand. But HE doesn't have to know that.
Your main goal in this section is to just open up communication. Remember though, you want to be in control at all times. That means that YOU have to be the one to end the conversation. To make matters more complicated you can't get into a full blown conversation with him yet. This is simply a small baby step that you are using to test the waters and gauge where you are at.
If you visited this page by searching how to get your ex boyfriend back that means you are emotionally lost and suffering from painful feelings of losing the person you love most in your life. Your heart is broken because you are lonely and you are getting memories of those lovely moments that you both spend together. Now you want to fix your break up, you want to get your ex boyfriend back, you want him to crawl back to you and propose you like he did before but you don't have any clue on how to make that happen. Use No Contact To Get Ex Back
Don't put too much pressure on yourself. Though you should avoid making the same mistakes, if you're constantly obsessing over not making them, you won't be able to enjoy the relationship. Just have fun and try not to think about it too much unless you're having a conflict. If you're so worried that you'll lose him again every step you take, you won't be able to live in the moment.
My name is Christina and I'm only 18 years old. I like anime, which is how my boyfriend Paul and I started dating – we went to school together and one day exchanged DVD's of anime we both liked. Then we began to go to anime festivals and gatherings together, watch movies at his house or my dorm room. He was the first man for me, although I was not the first for him. He had more experience and something to compare our relationship with. I was a good girl, who didn't think much about men before I met Paul. All I really thought about was anime.
It would be a good idea to fact find a bit more about her current situation (from mutual friends, etc), such as whether she may be seeing anyone, if she's going through a rough time, or anything that may be a reason for her hot/cold attitude towards you. There's also a chance that she is facing internal conflict between meeting you and getting reminded of both good and bad times from the past.
I want everyone to know what tremendous help Coach Lee has been to me! I had been dumped and had not heard from my ex for many days. It was tremendously painful since in my past experience I had never seen the relationship be revived after being dumped. You can read about strategies which are helpful but if you are serious about getting your ex back, contact Coach Lee. Once I hired him on the case, five days later my ex called. A miracle! He helped teach me what to say and when to say it. He calmed me when I wanted to reach out to my ex but it wasn't the right time. Even when my ex went many days without calling me his vast experience gave me the confidence to be patient. You go through so many ups and downs. He knows what you are going through and calms your fears! He gives you a game plan and helps you execute it through the highs and lows. After five days of hearing from my ex, she ghosted me for 11 days. I freaked thinking now it is all over! Coach Lee helped me be strong during that time! Then my ex called back! A second miracle! We went for coffee! A third miracle! He coached me for the coffee date! We ended up getting back together and I now have a regular call with Coach Lee. He teaches you so many things that help you move the relationship forward. You don't give them what they want you give them what they need! Coach Lee will be my coach for life for the most important thing in life you have, which is your loving relationship with your significant other!   -Dr. M.
Hi, I had been dating a guy for 2.5 years, he's a Muslim and I'm a Christian,during this time he was completely in love with me and he has done a lottttt of things to keep me happy and to show how much he loves me... because he was never like this and I could feel it and even his family and friends had told me that he has never been soooo serious before for any girl and I myself felt his love for me then... and I had amazing connections with his family and even most of his relatives side knew me.. though we used to fight a lot we always managed to get back and love each other more.. but the few days before the breakup we had been fighting and that is when he went to his cousins place far from where we live .. he stayed at his ex's place who is his cousin and he had dated her for 2 years before me ... and he suddenly started getting feelings for her and they were so strong that he went and told her mom that he wants to get married to her and even kissed her and stuff ... but then after he came back from there he has ditched her a million times already by kissing me and getting physical with me and even after that girl knew this she accepted him like twice .. and when there were problems in their relationship ( now it's almost 2 months since we broke up and since he's got into a relation with her ) he used to come to me asking if I will or will not give him another chance and that he loves me .. this has happened twice and both the times I used to agree and then we used to get physical ...I have come out of my country that means we don't meet and he doesn't even talk ( I have broken 4 rules which are mentioned above because I hadn't read the article before) so now my ex says he doesn't want me at all and he doesn't love me...and again their marriage is fixed like they say they'll get married after 5 years once he has achieved something in life ..both of us are 20 and his present girlfriend is 18...in this situation where families are involved and where he claims to love her soooo much will is till be able to get him back? Please help ... is it still possible ?
Be honest about how you feel, within reason. Don't tell her what she might have done wrong in the relationship. Instead, focus on you. Let her know that you've thought a lot about where things went wrong, and show her all the ways in which you've changed. Tell her how you've become more patient, more forgiving, more aware of your own shortcomings, and be sure to back it up with action. If you say you've become more forgiving, be able to show her that you're not as quick to point out other peoples' faults.
He said he started contacted her when he and I started to talked about marriage which is last year. He said he is not ready to get married, so that is his excuse to suddenly betray me? He is 27 yrs old and I am 30 yrs old. All this while I never force him to get married with me. we have been together for 5 years for god sake I never force him to propose me. So he said he don't know how to decide because he love both!!. Hello!! i have been with him for 5 years through bad and happy times, and he only with her I think 1 year or less than 1 year before me. He said he felt guilty he just leave the girl because of her status. then what about me? so I have been waiting for 2 months for him to decide. He once said to me he is not ready to get married but in his heart I am the one he want to be married to. Bullsh*t. I tried no contact but then i reach him out after two weeks. I've been pleading, crying, begging you name it. now i think about it i feel ashamed. This is coming from a guy that once said that he is a loyal person. F*cktard!. I even asked him what is actually our current status but he said he didn't want to talk about that yet. so I respect him i give him space. But then during my last begging session with him when he deleted his social media that full with our happy moments, we got into a fight and misunderstanding and he accidentally said that he feel suffocated with me. Because he misunderstand what i meant during that begging session. I suddenly feel fed up and mad and all my sadness that time turn into this anger. I then said we are officially over ( i never said this before, i really determined when i said this). he then realized that he misunderstand and accidentally said he feel suffocated with me. so he try to apologize but just like that no effort just word. saying he apologize and cannot do anything if i want to end the relationshi*. maybe he thought i will be running back to him in a couple weeks. NO NO NO NOT THIS TIME. its been 5 days since i put a stop on this. This time is real! I will never reach to him first. I will never wish him on his birthday. My absence and silent is my gift to him. i feel like during those last 2 months he put me on the hook. he don't want to let me go but he didn't decide also which one he want.

Look, forget that relationship hiatus even existed. You both up and went on with your lives while you were apart—but that doesn't mean you need to talk about what went down. "She doesn't need to hear about the bad dates you went on," says Spira," or about your conquests either." Would you want to hear about the guys who took your place? Didn't think so.
6. Wait, don't carried away quite yet! Remind yourself of why things didn't work out the first time around and look for clues to whether things would be any different now. If you broke up because he partied too hard, for instance, notice how much he drinks or how he talks about his nightlife. It would suck to get back together only to discover that the same problems are still haunting you. So take it slow and trust your gut.
Right now, no contact and spending this time to work on personal issues as well as personal happiness is the best advice you can get. If he's giving you the cold shoulder, reaching out any further will only push him away. Additionally, given the length of the relationship, you need to spend this time picking yourself up from the breakup, addressing the issues you felt contributed to it, and getting yourself to the right place emotionally before you even consider reaching out or trying to win him back.
When any man cheats it doesn't mean he finds someone prettier than you instead it means he found interest and admiration from new girl that you once showed to him. Your boyfriend wants to get admired for what he currently is and also he wants to get respect from you. It doesn't mean you disrespect him instead it means you failed to show him respect that he wants from you.
My situation is a little different than most, we've been together for 5 years and he's currently in the military now, he just ended things, with multiple reasoning but the last one was him saying he didn't have time for a girlfriend nor did he want one. It's been a week since we broke up and also a week of NC, I haven't reached out, but is this going to work, is he really going to miss me even with us being so far away and his schedule being so hectic?? Please someone give me some advice…
Sometimes, relationships turn sour and we break up. It is normal. If you can't stop thinking about your ex-boyfriend and you think you still have a shot with him, this article will help you get him back. The following tips will make it easier for you to handle the breakup and get him back in love with you. Analyze the situation well and determine if you still have feelings for your ex-boyfriend. If you still do, follow everything written in this article and you could get him back.
Hi. My ex bf broke up with. Me about 6 weeks ago after about 4 yrs. We had a colse emotional and physical connerction, at least i felt so, and our relaionship was gettind great the last 4 month and we had a plan to marry. But suddnly he said that he can't do it anymore, he said he had cheated on me several times with meaningless sex bcz he wasn't satisfied with our sex, he said i could never accept him and kept arguing with him frequently(i agree i was so insecure) and he said he became who i wanted but didn't. Give him what he wanted so he wasn't happy and he was always stressful. Siad his good behavior recently was because he didn't want to upset me and was fake- which i dont believe. He says he loves me but love is not enough and he behaved me really nice when i was acting crazy till now. I do regret my behavior and i want him back. I wish he doesnt give up hope for me.
I'm sure that you've heard the saying the grass is always greener on the other side of the fence quite a few times before. It is very very relevant to love and relationships as well. After being with someone for a long time it is easy to be tempted by something new or to get bored! Don't fall into the trap of thinking that you can easily find someone better!
Make a game plan for addressing the problem. Once you figure out what went wrong in the relationship - which could be a combination of problems instead of just one - it's time to think about how you can make things different next time. You don't want to make your ex-boyfriend want you back if you'll just run into the same problems and drama all over again.